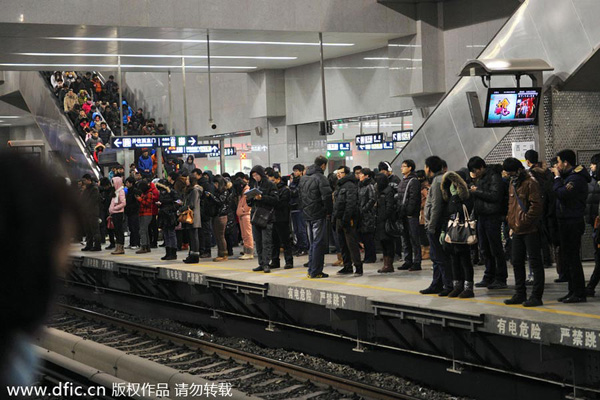 People are waiting for the train to come at Xi'erqi station in Beijng. [Photo/IC]
BEIJING - Beijing began soliciting public comments on price rises for bus and subway fares on Thursday.
Residents can comment on fare pricing plans from July 3 to July 20. It is the first time Beijing has solicited public opinion before raising prices. Any changes will be based on suggestions and a public hearing organized before any increases.
To ease traffic congestion, Beijing reduced bus tickets to as low as 4 jiao ($0.06) and two yuan ($0.32) for subway tickets ahead of the Olympics in 2008. Since then, prices have not changed. Recently, huge losses by the system and safety concerns about overcrowded vehicles have led to suggestions that prices need to rise.
In 2013, Beijing's buses carried eight billion passengers, an increase of 64 percent from 2007. The number of passengers taking subways hit 3.2 billion last year, an increase of 350 percent from 2007. Subsidies also jumped from 13.5 billion yuan in 2010 to 20 billion yuan in 2013.
"Public transport prices in Beijing have been well below their actual value for some time. Ticket revenue is nowhere near operation costs. The current system is neither sustainable nor conducive to urban development," said Wang Limei, secretary general of the China Road Transport Association.
Multi-tier pricing may ease subway crowds in rush hours and will improve services, said Wang.
"It is not a pure price hike, but a more reasonable ticketing system," said an official of the Beijing development and reform commission. "Our purpose is to solicit public opinion and suggestions then to formulate a reasonable price regime."
Residents have expressed their support for a reasonable price increase, but hope for a better service.
"My monthly expenditure is about 100 yuan. Even a doubling of price would be quite acceptable, but prices should not be too high," said Lu who hoped the government system soliciting of public opinion would not be formal.
Liu, another resident said much improvement is needed to signals and safety on Beijing's subways.