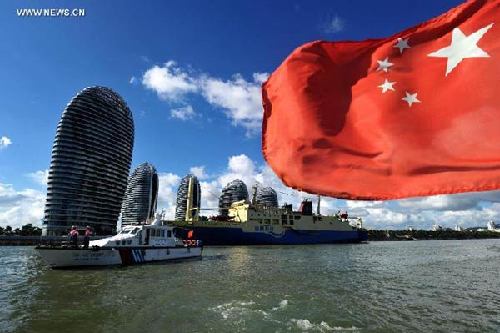 The cruise ship, Coconut Princess, leaves the port of Sanya for the Xisha Islands, in south China's island of Hainan Province, Sept 2, 2014. [Photo/Xinhua]
SANYA - A cruise route, linking the city of Sanya in the southernmost Hainan Province with the Xisha Islands in the South China Sea, opened on Tuesday afternoon.
About 200 tourists are aboard the maiden voyage on the Coconut Princess, which will take 12 hours to arrive in the Xisha Islands, according to Ye Wei, deputy general manager of Hainan Strait Shipping Co., the cruise operator.
Tourists will sleep on board and visit the islands of Yinyu, Quanfu and Yagong where they can play beach volleyball, dive, fish and take wedding photos, said Ye.
The cruise lasts four days and three nights and costs from 4,000 yuan (650 US dollars) to more than 10,000 yuan depending on accommodation.
Cruises to the islands, around 180 nautical miles away from the nearest port, got underway on a trial basis from Haikou, the provincial capital, in April 2013 and almost 3,500 tourists have made the trip. The new Sanya-Xisha route, which supersedes Haikou-Xisha from Tuesday, is eight hours shorter.
To the southeast of Hainan, the Xisha Islands are a cluster of islets, sandbanks and reefs, famous for their unusual scenery and ecosystem.
The obvious appeal of these island paradises has led to unauthorized, and potentially disastrous, tours being spontaneously organized. In January 2013, 24 travelers were stranded there for four days by bad weather.
Promoting tourism on the Xisha islands has been on the Chinese government's agenda for years. The State Council, China's cabinet, announced late in 2009 that Hainan would be developed as a destination for international tourists, including the Xisha Islands.