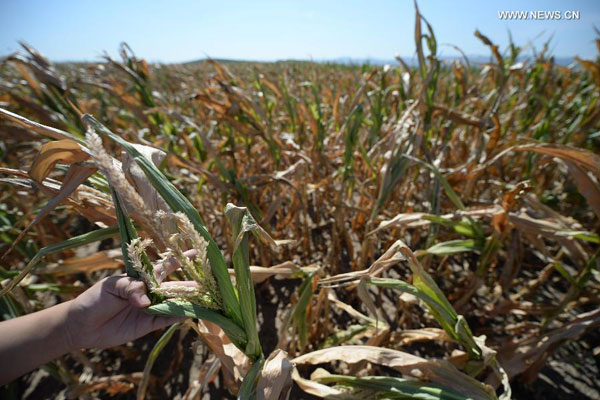 Corn stalks dry up due to lingering drought in Northeast China's Liaoning province, Aug 12, 2014.[Photo/Xinhua]
A new round of cloud seeding in northeast China has done little to relieve drought-hit areas.
The city of Dalian in Liaoning has only received around 15 to 40 millimeters, despite massive cloud seeding operations.
As such, authorities are putting more emphasis on finding alternative water sources through digging wells.
Nie Feng is with the irrigation department in Dalian.
"In the next stage, we are going to speed up our work. By September 3, we expect to finish all our construction work, power generation and the search for new water sources, which we hope will help ease the current drinking water shortages."
In the neighboring province of Jilin, light and unevenly distributed rain has also not been enough to moisten the farmland parched by months of dry weather.
Zhang Chengcai is a leading official in the city of Songyuan.
"We are standing on a farm field that will have almost no harvest. Even the best crops will see their yields reduced by at least 20 percent."
Forecasters are warning the dry conditions in China's northeast are likely to continue at least into next week.
Large swaths of northern and central China have been gripped by drought the past couple of months.