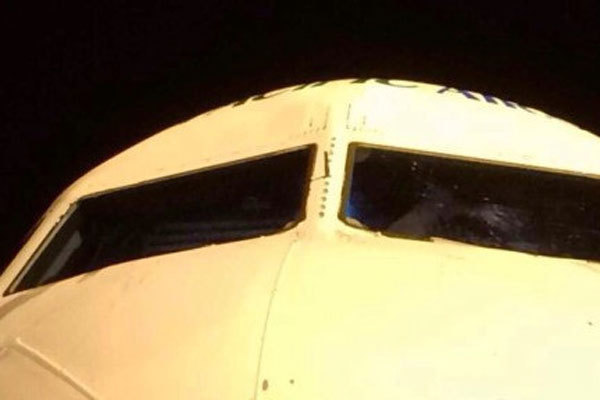 Picture provided by an Internet user shows a hole in the windshield of the airplane that was forced to land in Shanghai on July 30.
A Cebu Pacific flight from Manila to Beijing was forced to make an emergency landing in Shanghai due to bad weather at 1:22 am on July 30, the Beijing Times reported. No one was injured in the emergency landing.
The flight 5J672 operated by the Philippines-based airline was originally supposed to arrive in Beijing earlier on that day.
There is a heightened sense of alarm around air travel after four deadly crashes - the Air Algeria flight that crashed in north Africa on July 24, the TransAsia Airways airplane that went down in Taiwan on July 23, the shooting down of Malaysia Airlines Flight 17 in eastern Ukraine and the mysterious disappearance of Malaysia Airlines Flight 370 in March - took the lives of more than 700 air passengers and flight crew.