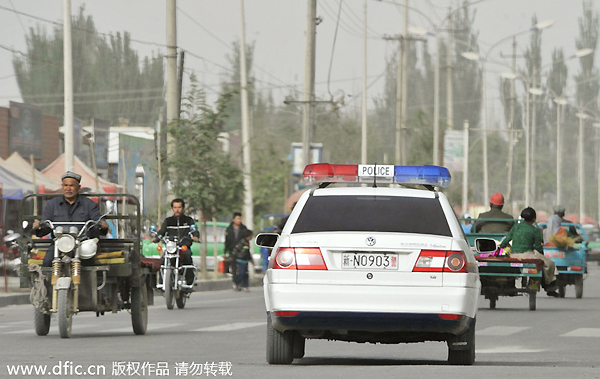 A police car patrols in Aksu, Northwest China's Xinjiang Uyghur autonomous region May 2, 2014. [Photo/IC]

BEIJING – A scholar was indicted on separatism charges on Wednesday in Urumqi, Northwest China's Xinjiang Uygur autonomous region, the prosecutor's office announced on the Internet.
The case of Ilham Tohti, a former economics teacher at Beijing's Minzu University, has been turned over to a Urumqi city court.
News of Tohti's indictment came after dozens of civilians were killed or injured in a terrorist attack in Kashgar prefecture, Xinjiang on Monday morning.
In January, police in Urumqi said there was conclusive evidence linking Tohti to secessionist activities.
Tohti used "UighurOnline", a website he set up, to spread rumors and separatist thought as well as misrepresent events to instigate ethnic hatred and call for "Xinjiang independence", the Urumqi Public Security Bureau said in a statement then.
The statement continued, "He also tells students that 'Uygurs need to use violence to protest'. He called those who have carried out terrorist attacks 'heroes' and instigates students to hate and even 'overthrow' the government.
Police said Ilham used his status as a teacher to lure people into a group connected with members of the East Turkestan Islamic Movement, an organization based outside of China that is listed as a terrorist group and under sanction by the United Nations.