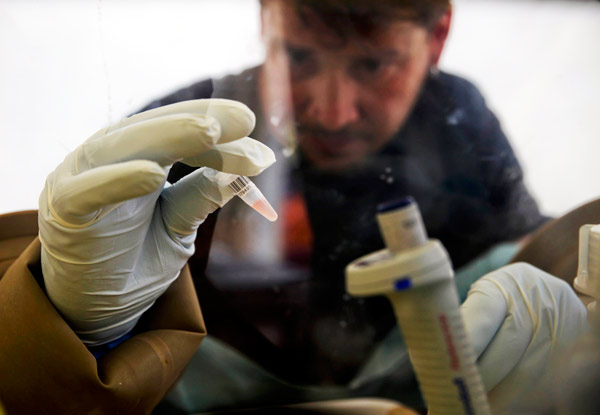 A scientist separates blood cells from plasma cells to isolate any Ebola RNA in order to test for the virus at the European Mobile Laboratory in Gueckedou April 3, 2014. [Photo/Agencies]
Hong Kong Secretary for Food and Health Ko Wing-man said on Wednesday afternoon that so far the health department hasn't received any reports of suspected Ebola case.
Ko said this in response to a media report that a Hong Kong woman returning from a two-week stay in eastern Kenya has exhibited symptoms of the deadly virus, which has killed more than 670 people in West Africa.
Ko said that there's no direct flight from West Africa but it's possible for virus carriers to come to Hong Kong through transit flights. Suspected cases will be immediately taken to isolation ward in Princess Margaret Hospital.
Kenya, as of Wednesday afternoon, has been spared from the Ebola outbreak that unfolded on the opposite side of the continent. Ko said a patient will not be considered a suspected case without a relevant travel or contact history.