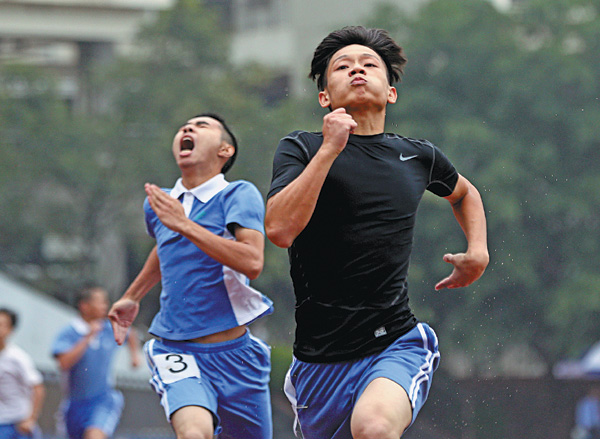 Students take physical education test in the high school entrance examination in Shenzhen, Guangdong province, in May. Provided for China Daily
Efforts to promote physical education have led to a slight improvement in the average level of fitness among students after years of decline, surveys have revealed.
The Ministry of Education has introduced a number of measures to enhance the role of PE in the nation's schools.
These include giving the PE test extra weight in the overall scoring system for the high school entrance exam, and taking PE development into account when assessing schools.
The latest initiative, announced on Wednesday by Education Minister Yuan Guiren, will see the creation of a soccer league system that within three years will involve 20,000 schools.
The efforts have paid off, said Wang Dengfeng, director of the ministry's Physical Education, Health and Arts Department.
"The deterioration of students' fitness has slowed down and we've seen a slight improvement," he said.
Two recent national fitness surveys show that the overall health - including stamina, strength and aerobic capacity - of primary and secondary students has started to improve following a period of decline, the ministry said.
The ministry analyzed data on 123,000 students aged between 7 and 18 in 2013 and 150,500 in the same age group in 2012. The results show that average cardiopulmonary function, lower-limb strength and stamina have improved since 2005.
Cardiopulmonary function was reflected by lung capacity, lower-limb strength measured by a standing long jump and stamina tested by running.
The obesity growth rate among students aged from 7 to 18, which rose steadily from 1985 to 2012, began to slow in 2013. The number of students with poor eyesight, which had previously been growing steadily, began to decline in 2012.
The modest improvement can be attributed to moves to reduce the academic burden on students and promote PE, Wang said.
"We're glad to see that a series of measures to guarantee PE classes and extracurricular sports activities in schools have taken effect," he added.
"By reforming the admission policy, investing more in sports facilities and strengthening supervision, schools and local education authorities have been encouraged to pay more attention to PE and students' health."
National student fitness surveys have been conducted at five-year intervals since 1985. The tests are carried out jointly by the ministry and the General Administration of Sport.
Researchers found that overall health levels fell to a historic low around 2005, triggering national concern.
The ministry issued administrative orders this year requiring all public schools to organize fitness tests and annual sports meetings.
Experts welcome the moves to promote PE, but some are not convinced that the improvement in fitness levels will be sustained.
"I suspect that the results only show a random rise, and I wonder if it can be considered an upward trend," said Liu Dongfeng, professor of youth development at Shanghai University of Sport.
sunxiaochen@chinadaily.com.cn