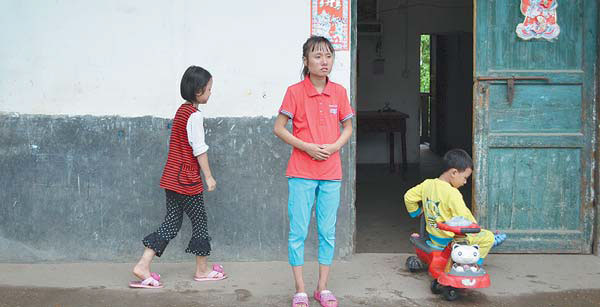 Cheng Xiaomin (center), 20, suffers from physical and mental disabilities.

Children in a township with a chemical factory are suffering from excessive amounts of lead, report Hou Liqiang and Feng Zhiwei in Hengdong county, Hunan province.
Cheng Xiaomin is 20, but she is only a bit taller than an average 8-year-old.
Extremely thin and tanned, she also suffers from a mental disability.
"She knows how to wash her face and eat, but only after we ask her to do so. She cannot do any housework. Nobody plays with her, and she spends most of the time at home," said the woman's grandfather, Cheng Xuqiu, 74.
"Every day, she is either walking about aimlessly or sleeping."
But Cheng said his granddaughter was not always like this. She became so only after 2009 when a chemical factory, Meilun Chemical Materials , started to produce electrolytic zinc for industrial use, he said.
"After the factory started producing the material, dust from the site accumulated on our windowsill. It exuded bad smells," said the resident of Dapu township in Hengdong county, Hunan province.
At least five residents said that Cheng Xiaomin did not suffer from any disability before 2009.
In 2012, a blood test showed lead levels in Cheng's body hitting 136 micrograms per liter.
Based on national health standards, the level of lead in the blood for children should not be more than 100 micrograms per liter.
The accumulation of lead in the human body can damage the nervous system and cause anemia.
If lead levels in children exceed the national standard, their intelligence, physical growth, learning ability and hearing can be impaired.
Worried that Cheng Xiaomin's younger brother might also be affected, family members took him to Shanghai, where his parents work.
In June, State broadcaster CCTV reported the situation faced by residents of the 40,000-strong township, and authorities soon suspended the production of the factory.
Cheng Xuqiu said he has spent more than 10,000 yuan ($1,600) taking his granddaughter to hospitals for treatment, but doctors only gave some medicine and suggested that he take her back home for treatment.
"I don't know what to do," Cheng Xuqiu said.
According to a name list provided by a resident named Yi Xinhuai, more than 300 children in Dapu suffer from excessive amounts of lead. Most of the children were tested for the lead in 2012.
While the lead levels of most children on the list are less than 200 micrograms per liter, some hit more than 400 micrograms per liter. But most do not have symptoms as serious as Cheng Xiaomin.
According to a statement provided to China Daily by the Hengdong government, 92 children were found to have excessive amounts of lead following tests organized by authorities in June.
The statement said 315 of 708 children living 600 meters around the factory took part in the tests.
Yi Xinhuai said he had managed to get some of the factory's raw material for testing in an agency in Hengyang, to which Hengdong is subordinate.
The results showed that the material contained 17.46 percent of lead and 13.14 percent of zinc, he claimed. Yi also claimed that guards at the factory injured him when he obtained the material.
The owner of the factory is under police investigation and could not be reached for comment.
Children of the factory's executives were first found to be suffering from excessive amounts of lead in 2012, Yi said. The news spread like wildfire in the town. Many parents took their children for blood tests and found that they suffered from high lead amounts, Yi said.


Timeline 
Recent cases of Those found with excessive lead amounts:

February 2013
23 children in Dongsheng village, Yingde of Guangdong province. There was a nonferrous metals plant near the village.

December 2012
334 people from Fanli township, Lushi county, Henan province. They lived near a smelting plant.

February 2012
96 children in Dongtang town, Ranhua county, Guangdong province. A smelting plant near the village was suspected of causing the incident.

August to November 2011
103 people in Hantang village, Nandan county, the Guangxi Zhuang autonomous region. There were three smelting plants in the village.

May 2011
332 people in Deqing county, Zhejiang province. A battery plant was held responsible for the incident.

March 2010
152 of the 285 children tested by a local hospital in Qizhou, Hunan province. The children were from Jiahe and Guiyang counties. Three factories were suspected of being linked to the incident.

March 2010
94 people, including 88 children, from Jianyu township, Longchang county of Sichuan province. A lead manufacturing factory near the village was suspected of causing the incident.

January 2010
51 children under 16 years old in Hekou village, Dafeng economic development zone of Jiangsu province. A battery plant was located 50 meters from the village.

December 2009
44 children aged 3 months to 16 years in an industrial park in Qingyuan, Guangdong province.

August 2009
615 children who lived around a lead and zinc smelting plant in Fengxiang county, Shanxi province.