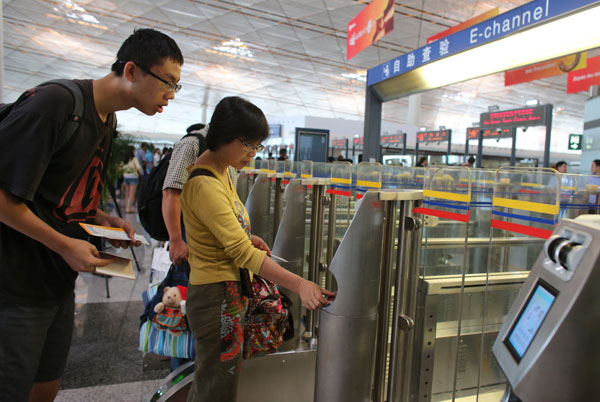 Passengers pass through customs via e-channel where they can swipe passports and have faces scanned by the new facial identification equipment at Beijing Capital International Airport on July 25. Wang Jing / China Daily
Foreigners with Chinese green cards can enter the country through an electronic admittance process at Beijing Capital International Airport, saving time and reducing complex procedures.
The so-called e-channel has been in operation since July 25, and almost 5,000 foreigners who had been granted permanent resident status in China can benefit from the new policy, China Immigration Inspection authorities said in Beijing.
These foreigners can quickly pass the inspection after they swipe their green cards on the e-channel, said Ji Lixia, assistant head of CII's Beijing branch.
So far, Terminal 3 at the airport has had 20 e-channel entries, while Terminal 2 and the Beijing West Railway Station had 18, according to the branch.
Aside from green card holders, Chinese passengers who have new-style passports implanted with the holder's biological information, such as fingerprints, can also pass the entry inspection via the e-channel.
These individuals can simply swipe a passport and press a finger on a fingerprint device.
The e-channel has been employed in Hong Kong and Macao since 2002, though the target at that time was just locals and mainland residents who entered repeatedly.
To deal with the soaring number of exit-entry passengers, the inspection authorities decided to widen the use of the e-channel, Ji said.
Since 2008, the number of exits and entries has increased by 50 percent, "but our police force has only grown about 20 percent", she said, adding that insufficient labor hurts service to travelers.
"The e-channel not only provides better service but also ensures that the inspection time of each passenger can be shortened as much as possible," she said.
If a person is familiar with the device, he will pass in five seconds, Ji said. But if he forgets which fingerprint he recorded, "the time may be prolonged".
caoyin@chinadaily.com.cn