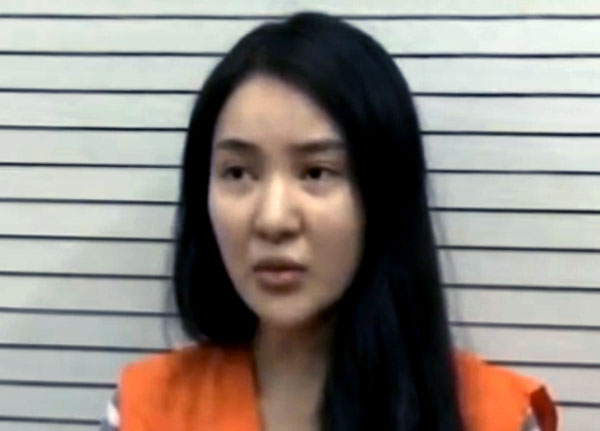 Guo Meimei, at the center of a charity scandal, says she made a huge mistake. 
Guo Meimei, the 23-year-old woman who landed the Red Cross in China in a credibility crisis, has been investigated for being deeply involved with illegal gambling and the sex trade, and for spreading rumors, Xinhua News Agency reported on Monday.
Guo was arrested on July 10 on suspicion of taking part in illegal World Cup soccer gambling activities. She later confessed to police that she had nothing to do with the Red Cross Society of China.
"None of my relatives and friends, including my ex-boyfriend, were staff members of the RCSC. I didn't know anyone from the Red Cross," Guo said. "I made a huge mistake to gratify my vanity," she said during the investigation.
"I want to say sorry to the Red Cross, all of society and especially to all the people who cannot get aid from the Red Cross (because of my false claims)," she said.
According to Beijing police, Guo's wealth came from illegal gambling, commercial performances including singing, and the sex trade.
In mid-2011, Guo claimed on social media she was a manager of an organization under the charity, and openly flaunted her wealth and extravagance.
Her posts triggered concern over how donations are used by the country's State-run charitable organizations and dealt a major blow to the RCSC, which has been struggling to regain trust since the scandal.
Donations to the society dropped by 23.68 percent in 2012, according to the China Charity and Donation Information Center
The society released a statement on Monday, saying that some institutions and people had made up rumors against it, and pledged to improve its transparency.
The statement said the society has 110 years of history and will continue to improve its brand-building capability, information sharing and management, and provide better assistance to the public.
Tao Chuanjin, director of the Research Center of Philanthropy and Social Enterprise at Beijing Normal University, said it will be very hard for the society to rebuild its reputation.
"From the start, Guo's comments were not trustworthy, but still triggered the credibility crisis," Tao said. "It showed the public already had doubts about how the society works.
"The scandal helped us to reflect on how charity work is done in China. Instead of relying on government institutions, people began to establish their own platforms and foundations to operate in a different way. The public has more choices than before," Tao added.
Deng Guosheng, director of Tsinghua University's NGO Research Center, said the development of charity work needs more participation from the private sector and the public.
"In China ... we are more focused on major tragedies like earthquakes instead of poverty-stricken areas. We are more reliant on large donations from rich people instead of ordinary people. We are more limited to government-funded charity institutions instead of private ones.
"This is typical Chinese charity. Some of us choose to donate money because the government sends a notice and asks us to do so."
Deng said more education is needed to tell people of the importance of charity and social work.
The government should set up more platforms for the public to take part in this and give more credit for such work, Deng added.
He Dan and Xinhua contributed to the story.
suzhou@chinadaily.com.cn