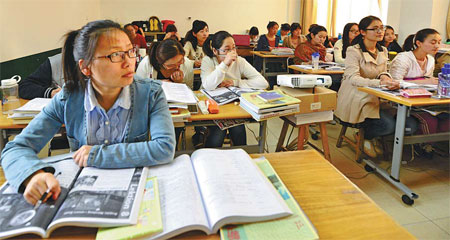 Students at the International Nurse Training Center in Weihai, Shandong province, take a foreign language lesson in April. Ju Chuanjiang / China Daily

Program taps Chinese nurses to plug staffing shortages in the West, report Zhao Ruixue in Weihai, Shandong province and Zhou Wa in Beijing.
On Aug 3, Xie Yanxi will take a flight to start living her dream.
The 25-year-old, who specializes in foreign nursing care, will fly with seven other Chinese nurses to Stuttgart, Germany, to work at a residential care center for the elderly for at least three years.
Xie is one of the nurses benefiting from a program signed by China and Germany at the end of 2012. The program aims to recruit 150 Chinese nurses in the following three years to work in Germany.
Faced with an aging society and a shortage of nurses, countries including Australia, Japan, Canada, Singapore and New Zealand have turned to Chinese healthcare professionals to help plug the gap.
The program marked the first time for Germany to recruit Chinese nurses, providing precious opportunities and possibly opening more of these for Chinese healthcare professionals who want to work in Europe.
"It has always been my dream to work as a nurse in the West. I'm finally realizing it," said Xie, who worked at a hospital in Guangdong province for two years after earning a bachelor's degree from Nanchang University.
Xie received the job offer last August. She then took an eight-month German-language course at the International Nurse Training Center run by Weihai International Economic and Technological Cooperative Co.
Xie paid 8,800 yuan ($1,408) for the language course, which can be reimbursed by the German organization she works for.
She also paid the Weihai company 25,000 yuan to help with employment matters such as arranging interview opportunities with German organizations and applying for visas.
Chinese nurses have to pass the German B1 level examination before applying for the relevant visas.
That is also why Wang Hao, a 24-year-old male nurse, is spending eight hours a day studying German at the Weihai training center.
Wang received an offer to work at a care center in Stuttgart in January. He started the language course in February.
"I value this opportunity. No matter how hard it is, I will try my best to master the language," Wang said.
He is also learning German culture and lifestyle.
Wang worked at a public hospital in Handan, Hebei province, after graduating from Hebei University last year.
He said the three-year overseas experience will give him better career opportunities.
"When I am back in China, I might get a chance to work in joint-venture hospitals where the salary is higher and the relationship between patients and medical staff is better," Wang said.
Wang said the deteriorating relationship between Chinese patients and nurses and the prejudice against nurses, especially male nurses, are some of the reasons why he wants to work in the West and learn from the experience.
Once in Germany, both Xie and Wang will first work as auxiliary staff for about half a year before taking the German nursing examinations. During this period, they will get a monthly salary of 1,900 euros ($2,545).
After passing the exams, they will work as fully qualified nurses for at least three years, drawing a monthly salary of 2,300 euros each.
Xie said the German organization has helped her rent a house, which will cost her 240 euros a month.
The first five nurses who left for Germany in January passed the nurses' examination held by German authorities in June, which means they can work as registered nurses in Germany, said Wang Zhuwen, operations director of the Weihai training center.
About 50 nurses are taking the German-language course at the Weihai training center. Most of them already have job offers.