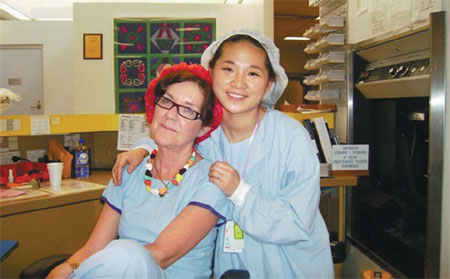 Cao Huali, who used to work as a nurse in Saudi Arabia, is now a tutor to students of nursing care majors at the University of Technology, Sydney. Provided to China Daily


Filling the void
The Chinese nurses working overseas have received positive feedback from their employers, said Marcel Schmutzler, a press officer with the German Federal Employment Agency's International Placement Services Department.
"They show high professionalism and ability in their interactions with patients," said Schmutzler, adding that their ability to empathize with old people is also impressive.
The nurses' grasp of German is similarly competent, as their patients said they can be understood by the nurses when they speak slowly, Schmutzler said.
According to the agency, there were 597,016 people working as nurses, first-aid personnel and midwives, and 470,301 people as healthcare workers in nursing homes in Germany by September 2013.
But demand for qualified nurses remains large. By May 2014, there were at least 9,179 vacancies for nurses, first-aid personnel and midwives in Germany. There were at least 8,990 vacancies for healthcare workers in nursing homes.
Shandong province, where the Weihai training center is located, sends about 50,000 workers overseas a year, most of whom work at overseas construction sites, garment factories and food-processing, farming and deforestation projects.
"Over the years, we are upgrading our labor strategy by shifting from labor-intensive workers to skilled people like nurses," said Wu Jianguo, deputy director of the division of economic cooperation under Shandong's commerce department.
The Weihai company alone has sent more than 1,500 nurses overseas since 2005, Wang said.
But Australia has almost closed its doors to Chinese nurses, as the country requires a high level of language ability, which is difficult for Chinese nurses to achieve, Wang said.
"It's a win-win strategy to encourage nurses to work overseas. Many students are happy to have overseas experience, considering it a good way to broaden their horizons and become more competitive," Wang said.
Cao Huali has become a permanent resident in Australia, where she trains students majoring in nursing care at the University of Technology, Sydney.
"My two years working as a nurse in Saudi Arabia not only enriched my overseas experience but also enhanced my English-speaking ability, which laid a solid foundation for getting the chance to work in Australia," said the 36-year-old, who went to Saudi Arabia through the Weihai company in 1998.
Cao now earns about A$ 60 ($56) an hour and she has bought a house in Sydney.
Reflecting on her 16-year career overseas, Cao encouraged Chinese nurses to work overseas.
"In Australia, nurses focus on caring. Only when you focus on caring can you do the job well. Then you will be respected," Cao said.
Contact the writers at zhaoruixue@chinadaily.com.cn and zhouwa@chinadaily.com.cn