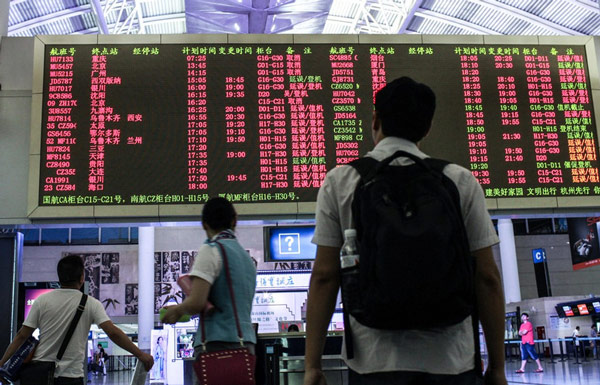 Numerous flights were delayed at Hangzhou Xiaoshan International Airport on July 26. [Photo/CFP]
Travel agencies have reported brisk sales of flight-delay insurance policies in the past two weeks, especially on routes in the eastern and central parts of China, as a result of an increasing number of flight delays.
Ctrip.com International Ltd said on Wednesday that its sales of such policies rose 90 percent this month compared with the first two months of the year. The company is the largest online travel agency in China.
About 26 percent of the customers of Tongcheng Network Technology Share Co Ltd, an online travel agency based in Suzhou, Jiangsu province, bought flight-delay insurance in recent weeks, compared with 20 percent previously, said Zhang Yanhong, public relations manager of Tongcheng Network.
The policies cost 20 yuan ($3.20) and pay 100 yuan if a flight is delayed for at least four hours, Zhang said.
The Civil Aviation Administration of China issued alerts on Saturday and Monday concerning flight delays. The CAAC also noted that air traffic at the two airports in Shanghai was down by 75 percent on Tuesday from its usual level.
"Our customers often bought aviation accident insurance in the past, but now, most of them also buy flight-delay policies," said Yan Xin, a senior manager of Ctrip's public affairs department. Under civil aviation regulations, airlines do not usually have to compensate passengers for delays caused by weather or traffic controls.
"At the moment, insurance may be the most effective way for passengers to cover some of their losses," Yan said.
Some passengers traveling on the affected air routes said the insurance is becoming a necessity.