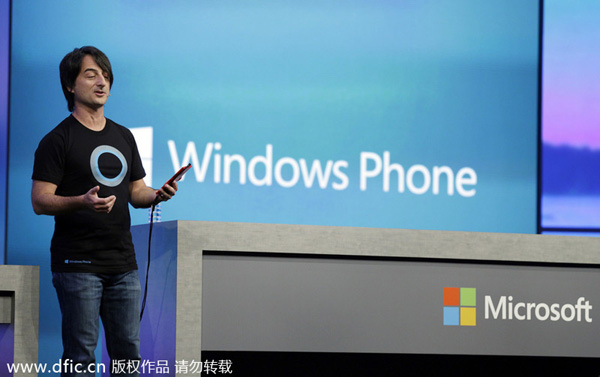 Microsoft corporate vice president Joe Belfiore, of the Operating Systems Group, gestures while demonstrating the new Cortana personal assistant during the keynote address of the Build Conference Wednesday in San Francisco, April 2, 2014. [Photo/IC]
Microsoft Corp on Wednesday released the Chinese version of Cortana, a Siri-like voice assistant tool that can help smartphone users to book flights, control applications and learn Chinese poems.
Cortana is the second artificial intelligence (AI) software Microsoft has introduced to China this year. In late May, the company launched Xiaobing, a chat robot currently available on Weibo, a popular microblog platform.
Wang Yongdong, head of Microsoft's Asia-Pacific Research and Development Group, said the company will continue to invest in local AI research.
"Both Xiaobing and the Chinese version of Cortana are developed for Chinese market. We will launch more China-targeted products because the country is a critical market for us," Wang said.
China has the biggest Windows Phone developer population than any other country. Microsoft hopes local innovation could boost Windows phone sales in the world's largest smartphone market.
The market is firmly controlled by Android and iOS phones. The market share of Windows-powered handsets is next to zero.
"We hope features such as Cortana will lift the adoption rate of Windows systems in China," said Wang.
A Chinese antitrust regular on Tuesday launched a formal monopoly investigation on Windows and Office products.
The probe against Windows operating system is most likely eyeing desktop versions.