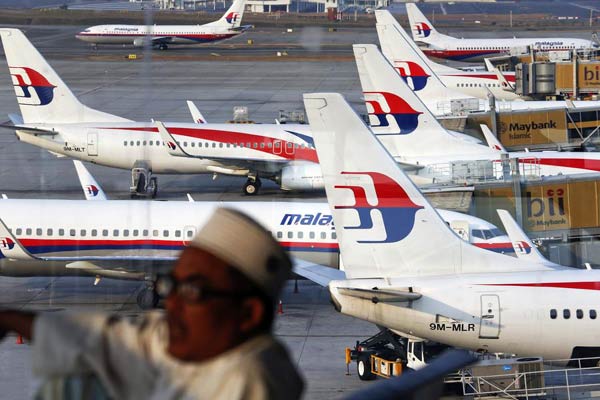 Malaysia Airlines planes are seen on the tarmac at the Kuala Lumpur International Airport March 12, 2014. [Photo/Agencies]
Carrier struggling after losing two planes within four months, reports Alfred Romann in Hong Kong.
The tragic end of Malaysian Airline System Bhd's flight MH17 in Ukraine with 298 people on board may have sealed the fate of the struggling airline.
No airline before has had to deal with the crash of two wide-body aircraft in such a short span of time. On March 8, flight MH370 vanished with 239 passengers on board. It has never been found and the cause of the disappearance has not been ascertained. Four months later, on July 17, flight MH17 was shot down by a missile.
Few expect MAS to survive in its current form. The reality is that it was already on its last legs before the events in March and July.
And it is not alone.
Other Asian airlines are also struggling. In contrast, their North American peers are recording levels of profits they haven't seen in several decades.
Even before March, MAS had been losing about $1.6 million a day, and it had been in the red for three years. In the past nine months, its market capitalization has dropped 40 percent and its shares have fallen 35 percent so far this year.
"Certainly, we were not satisfied with our performance in 2013," said CEO Ahmad Jauhari Yahya.
The airline's loss for last year, which was larger than in 2012, was due to "higher depreciation, a weakening ringgit and falling yields", according to Yahya. The airline has been struggling for years with rising competition, new market players and the increasing perception of commercial air travel as a commodity, he said.
"If Malaysia Airlines shrinks in size or doesn't continue operating, all these neighbors of ours will be happy to grab market share," said Mohshin Aziz, an aviation analyst at Malayan Banking Bhd in Kuala Lumpur.
"People know it isn't their fault, but it doesn't matter because sentiment is really, really negative," said Aziz. He added that there is little chance that the airline will recover.
At the annual general meeting one month ago, Chairman Md Nor Yusof struck a hopeful tone. That was three months after the disappearance of MH370 and a month before MH17 was downed in Ukraine.
" (It) is worth remembering that for more than 40 years, Malaysia Airlines has brought the world to Malaysia and Malaysia to the world," he said.