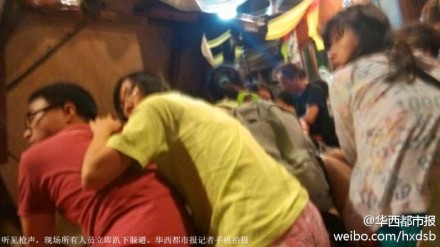 Hotel guests scramble for hide on Wednesday night after hearing gun shots at their resort in the Malaysian state of Sabah. [Photo from West China Metropolis Daily's official Weibo account.]
KUALA LUMPUR -- Malaysia confirmed Thursday that a Chinese tourist and a Filipino resort worker had been abducted by a group of men from Pulau Singahmata near Pulau Bum- Bum in Semporna,state of Sabah of Malaysia.
Mohammad Mentek, director-general of the Eastern Sabah Security Command (EssCom), confirmed in a statement that the abduction happened at around 10:30 pm Wednesday, according to Bernama, Malaysia's state news agency.
"We leave it to the police to conduct further investigation and provide a full report," he said in the statement.

Chinese consulate has started a 24-hour emergency mechanism to assist families of the missing tourists, reported Xinhua, quoting Liu Quan, the consul-general in Kuching, as saying.

Liu had an urgent meeting with Sabah's Tourism, Culture and Environment Minister Masidi Manjun and State Police Commissioner Hamza Taib.
The two local officials said they would keep close contact with the Chinese side, and investigate the incident as soon as possible, adding they would keep the consulate informed.
The kidnapped tourist was confirmed to be from Shanghai.
The Chinese tourist, Gao Huayun, 29, is from Shanghai, said her father who contacted Radio Shanghai seeking help, the media agency reported on its official Sina Weibo, without giving the father's name.
Ctrip.com, one of China's leading travel sites, said Gao was on a self-funded trip with her classmate(s) and the company had arranged a visa for her.
Earlier reports said a female Chinese tourist and a local worker woman were kidnapped Wednesday by a group of armed men in the state of Sabah.
The suspected Philippine rebels of six took the two women from a hotel at Singamata Reef Resort, in the Malaysian state of Sabah, and then fled the scene by boat, the West China Metropolis Daily reported.
About 60 Chinese and European tourists were in the hotel at that time. A reporter from the newspaper heard rapid footsteps and women screaming. One witness saw the alleged kidnappers get in a boat when they left, and said the women were screaming "help".
Around 11 pm, about 20 armed local police arrived at the hotel and guarded the area. Hotel staffers said the intruders are suspected to be Philippine rebels.