Premier Li Keqiang pledged greater efforts to break the intergeneration poverty curse, during a meeting on poverty alleviation with other senior officials over the weekend.
It is time to adjust the strategy for poverty reduction, Li said at the meeting, which took place on a train traveling from Xi'an to Zhen'an county in Shaanxi province.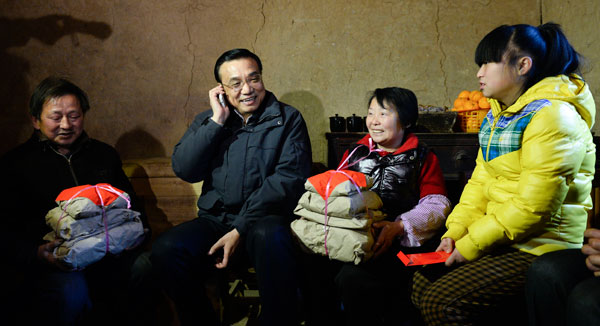 Premier Li Keqiang talks with the father of Yang Kang, a 12-year-old girl, over the phone during a visit to her home in Xunyang county, Shaanxi province, on Monday. Yang's father works in the city and told the premier he will return home in time for Spring Festival. liu zhen / china news service
Li told the officials, including central bank governor Zhou Xiaochuan, that though China has lifted more than 600 million people out of poverty since the launch of reform and opening-up, chronic poverty remains in areas with harsh environmental conditions.
He said the government should encourage urbanization, especially the development of small cities and towns, to relocate poor populations.
He also urged local governments to guarantee equal access to public services to those who relocate.
His remarks were made public on Monday.
The premier visited Jinpo, a mountainous village in Ankang city, on Monday morning.
Hua Zelin, a 42-year-old migrant worker who came back to the village for the upcoming Spring Festival holiday, said his best hope is that his oldest son, a senior high school student, is admitted to a decent university and finds a white-collar job in a city.
Hua earns 100 yuan ($16.50) a day working in a brick factory in Xi'an, the provincial capital, to support his family.
"Our generation might have gotten stuck here. But I hope my son is able to leave," he said.
Li also said during the weekend meeting that local governments will enjoy greater autonomy in utilizing funds and initiating measures tailored specifically to tackle the root of the poverty issue.
However, it's urgent that the central government strengthens supervision on "life-saving" money reserved for the needy as a recent audit report revealed serious malpractice in the field.
| | |
| --- | --- |
|  Also popular |   |
| | |
| | |