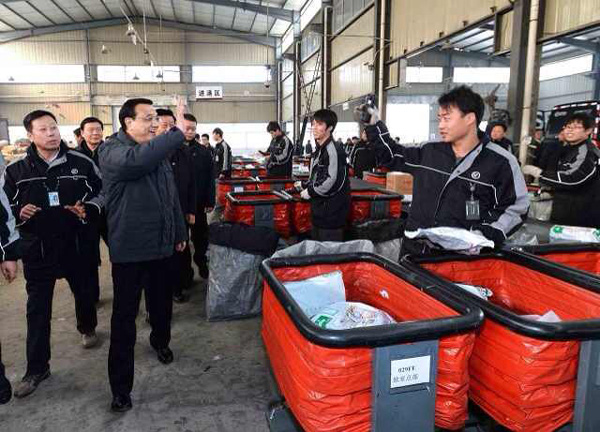 Li Keqiang is waving his hand to workers at the distribution center of domestic courier company SF Express Co in Xi'an, Jan 27, 2014. [Photo/gov.cn]
Premier Li Keqiang visited the distribution center of domestic courier company SF Express Co on Monday, urging the company to compete with the big global brands in the express delivery business, such as FedEx.
During his visit to the facility in Xi'an, capital of Shaanxi province, the Premier encouraged grassroots employees to work hard and aim to compete with global leaders, highlighting the government's efforts to reinvigorate the economy through promotion of the service sector.
"You should not only make yourself the best in the domestic market, but you should also dare to compete on the international market. I hope your business will expand within and outside China to offer competitive service to global customers," Li told delivery workers.
Saying that express delivery and e-commerce are twin brothers, the premier praised the work of logistics as a "dark horse" in the emerging industries, which has facilitated the development of the burgeoning online shopping industry in China.
Founded in 1993 and headquartered in Shenzhen, SF Express provides domestic and international express delivery to both business customers and the ordinary public.
The private company covers most of China, including Hong Kong, Macao and Taiwan, as well as serving international customers in South Korea, Singapore, Japan and the United States.
During his tour, Li pledged to provide a fair platform for private companies like SF Express to compete with State-owned enterprises, so that these private companies can perform better.
Xu Yi, head of the public relations department, said the company owns 14 aircraft and is planning by another 11 by the end of 2015.
At the invitation of one worker, the premier helped push the "submit" button to complete a delivery order through a handheld electronic terminal — usually carried by every SF mail dispatcher — and then stick the shipping bill to the parcel.
The Shaanxi distribution center handles air packages from outside the province and dispatches parcels to other destinations. The center normally handles at least 70,000 packages each day, and its workload increases to around 100,000 during Spring Festival.
About 120 full-time employees work at the center, and 300-plus part-time workers help out during the peak season. Across the province, a total of 3,500 employees work to collect and dispatch parcels.