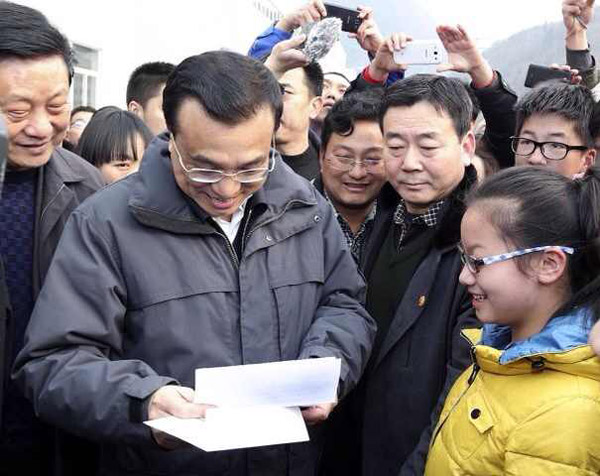 Chinese Premier Li Keqiang visits people at a resettlement community in Shangluo city, Northwest China's Shaanxi province, Jan 26, 2014. [Photo/China News Service] 
Premier Li Keqiang pledged on Sunday to guarantee basic social security provision across the country, highlighting the needs of the poor with a visit to a social relief center in Ankang, Shaanxi province.
Li extended Lunar New Year greetings to the homeless people living at the center, describing it as their "temporary home".
Established in the early 1970s, the center provides temporary accommodation for the homeless in Ankang and nearby cities.
During his visit, the premier highlighted the importance of social relief work and urged the governments to do a better job in providing basic welfare to disadvantaged people.
"The government has to tighten up the network of social security. A welfare system must be in place for the poor to fall back on if they encounter difficulties," he said. "Otherwise, these disadvantaged people can easily impact the bottom line of society."
Liu Shilin, head of the relief center, said it had received more than 3,400 vagrants and homeless children in 2013.
"Some of them turned to us for help on their own. These people are usually travelers who lost their property or migrant workers who didn't receive their salary," Liu said.
"Others were sent here by police officers who have difficulty in identify themselves."
According to current regulations, people receiving social relief are allowed to live at the social relief center for 10 days at the most, but Liu said some of them — mostly mentally retarded — have lived here for months or even years, because they cannot remember their hometown.
The creation of an effective social security network has become a key theme of national government policy since Li took office in March 2013.
In his first press conference as premier, Li said the government should "weave a network that guarantees the basic living of all the people", covering education, medical care, social insurance and housing.
At an executive meeting of the State Council in October, the premier pledged to enhance the government's efforts through legislation to help disadvantaged groups such as the disabled, the poor, elderly people with no offspring and people affected by natural disasters.
Zheng Gongcheng, a professor from Renmin University of China, said legislation on social relief is an urgent issue in China because social relief is the bottom line in the social security system, acting as an indicator of social fairness.
| | |
| --- | --- |
|  Also popular |   |
| | |
| | |