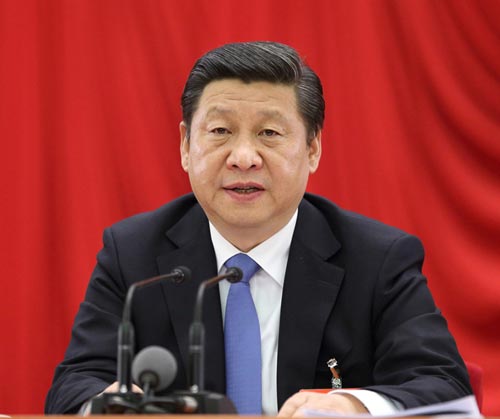 Xi Jinping, general secretary of the Communist Party of China (CPC) Central Committee, addresses the Third Plenary Session of the 18th CPC Central Committee in Beijing, capital of China, Nov. 12, 2013. The session lasted from Nov 9 to 12.   [Photo/Xinhua] 
BEIJING - China has pledged to make the most sweeping changes to the economy and the country's social fabric in nearly three decades with a 60-point reform plan that may start showing results within weeks.
Some financial and fiscal reforms are likely to be the first out of the blocks, analysts said, but more wrenching changes such as land reform, reining in the power of state-behemoths, and a more universal social welfare system may take years as the Communist Party leaders balance reorganizing the economy with a need to maintain stability.
"It's clear that they understand what reforms are needed. They will probably start with reforms that could offer the highest returns with the lowest costs," said Lu Zhengwei, chief economist at Industrial Bank in Shanghai.
China unwrapped its boldest reforms since Deng Xiaoping set the country on a course of opening up to the world in the 1970s and 1980s. The Communist Party pledged to let the market play a "decisive" role in the economy and outlined changes designed to unleash new sources of growth that it said would yield results by 2020.
After three decades of breakneck expansion, the economy is showing signs of spluttering under the weight of industrial overcapacity and piles of debt.
Chinese leaders have made clear that reforms will be carried out in a more concerted way by setting up a high-level group to lead them, but analysts believe they will move first with some less controversial reforms, such as interest rate and price deregulation on utilities and natural resources.
"They are likely to start with some easier ones or reforms that have already been kicked off," said Chen Letian, an economist at Rising Securities in Beijing.
The central bank is likely to unveil a long-awaited deposit insurance system by the end of this year or early in 2014 to pave the way for freeing up bank deposit rates, which are now subject to administrative caps, analysts say.
The insurance scheme would protect depositors as Beijing is concerned some smaller lenders could go under as banks compete for deposits in a more open regime. Earlier this year, the central bank removed controls on lending rates.
They expect qualified private investors will get the green-light in the coming months to set up banks to compete with big state lenders that currently dominate.
The government will further loosen its controls on prices of water, electricity and natural resources, in line with the pledge to let the market play a "decisive" role, with changes sooner rather than later.
Fiscal reform is likely to gain some urgency as a lack of constraint on the finances of heavily indebted local governments will make interest rate reform less effective. A bigger slice of tax revenues would reduce their need to borrow heavily or to sell land to raise revenues.
The leadership pledged to push fiscal reform to improve budget management and let the central government assume more spending obligations.