MANILA - The United Nations expressed fear on Monday that some Philippine islands hit by a giant typhoon have not been reached 10 days after disaster struck and President Benigno Aquino said the scale of suffering "tempted him to despair".
Authorities estimate more than 3,900 people were killed when Typhoon Haiyan, one of the largest ever recorded, made landfall in the central Philippines and the sea surged ashore.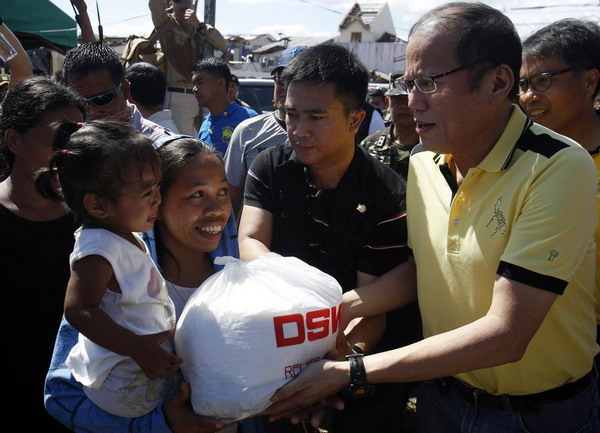 Philippine President Benigno Aquino (R) distributes disaster relief items to survivors of Typhoon Haiyan during his visit to Palo, Leyte province, central Philippines November 18, 2013. The United Nations expressed fear on Monday that some Philippine islands hit by a giant typhoon have not been reached 10 days after disaster struck and Aquino said the scale of suffering "tempted him to despair". [Photo/Agencies]
Philippine authorities, the US military and international agencies face a mounting humanitarian crisis, with the number of people displaced by the catastrophe estimated at four million, up from 900,000 late last week.
Bernard Kerblat, UN High Commissioner for Refugees representative for the Philippines, said the agency was still facing coordination problems and bottlenecks.
"As of now, personally, I am not so sure that we've reached every single portion of the territory where people are in need of aid," he said.
"And, in fact, I wouldn't be surprised that unfortunately that there might still be, as I'm speaking to you, day 11 of this disaster, there might be still very isolated islands."
Orla Fagan, a spokeswoman for the U.N. Office for the Coordination of Humanitarian Affairs, said it was a "logistical nightmare" to get relief supplies out at all.
"The size, the quantity of people that have been affected by this, this is massive, between 10 and 12.9 million people have to be assisted to recover from this. This is absolutely huge. It's like taking the whole of Belgium and trying to assist."
Aquino visited the town of Palo, just south of worst-hit Tacloban city, where engineers have salvaged generators from a flood IT park to light up the streets and town hall again.
"One is tempted to despair, but the minute I despair, then everybody, it cascades down and everybody gets hampered in their efforts," he said.
Huge cost
The World Bank is to extend a $500 million emergency loan to support reconstruction of buildings that can withstand winds of 250 kph (150 mph) to 280 kph and resist severe flooding, it said in a statement.
Haiyan slammed central Philippine islands with 314 kph winds, causing tsunami-like storm surges that swallowed nearly the whole of Tacloban, once home to 220,000 people, in Leyte and Guiuan town in Eastern Samar.
Nearly 95 percent of the deaths from the typhoon came from Leyte and Eastern Samar.
Amateur video has emerged of the storm at its peak as it washed away a structure on the coast of Eastern Samar.
Aid worker Nickson Gensis, along with five others, took refuge in the top floor of a boarding house and while the others were praying, he pulled out his camera and started filming.
His footage shows the storm surge wash away a house and turn the area from barren land to sea in less than 30 seconds.
Budget Secretary Florencio Abad said the cost of rebuilding would be huge.
"It will be much more than the $500 million (from the World Bank), even the additional $500 million that the ADB (Asian Development Bank) is also promising to provide us," he said.
Aid from China
The first batch of Chinese aid for survivors of Typhoon Haiyan arrived in central Philippine city of Cebu, a relief goods distribution center, on Monday evening.
The relief aid including tents and blanket, shipped by a cargo plane of China Eastern Airlines, was handed over to the Philippine Department of Social Welfare and Development (DSWD), and then will be sent to Tacloban, a worst-hit city in central Philippine province of Leyte.
Mercedita Jabagat, director of Philippine Region Seven Office, said the tents and blankets are badly needed for those who survived the deadly Typhoon Haiyan, adding that the Filipinos appreciate the support from China.
Wu Zhengping, counsellor of the Economic and Commercial Section of the Chinese Embassy, said Typhoon Haiyan has caused enormous losses to the Philippines, raising great concern of international community. China acts with compassion and kindness, and is willing to offer a helping hand to typhoon victims.
China will continue providing assistance of all forms to the victims, he added.
China provides 10 million RMB (73.2 million pesos) worth of relief goods to assist communities devastated by Typhoon Haiyan, apart from $200,000 donated by the Chinese government and China Red Cross.
To date, Typhoon Haiyan, the strongest of its kind for this year around the world, has killed 3,976 people and injured 18,175 in central Philippines. Another 1,598 people are still missing. Economic losses topped 10.38 billion pesos ($238.24 million).