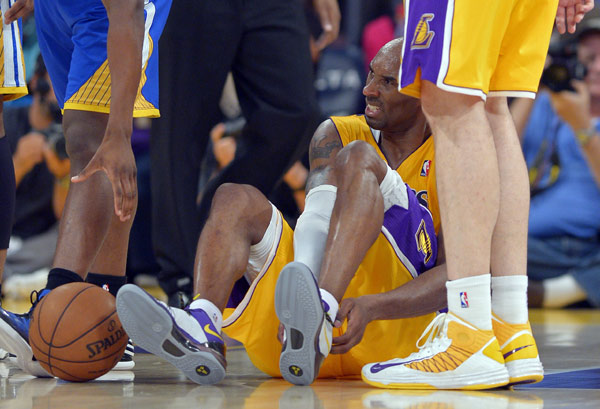 Kobe Bryant grimaces after being injured during the Lakers game against Golden State Warriors on April 12, 2013. [Photo/Agencies]
WASHINGTON - Los Angeles Lakers All-Star guard Kobe Bryant showed up at the shooting drills on Sunday before the Lakers' home game against the Detroit Pistons.
Kobe had practiced with his teammates on Saturday, and that was his first team practice since he tore his left leg Achilles tendon seven months ago.
However, he didn't take part in the shootaround session before the game.
Lakers head coach Mike D'Antoni said people should stay cautious on Kobe's return.
Erratic Lakers eagerly await return of ace closer Bryant
While the Los Angeles Lakers have made a better start to this season than many had expected in the absence of Kobe Bryant, there is no question that their 15-time All-Star shooting guard has been sorely missed.
The Lakers have lurched between a few surprising wins, most notably against the Los Angeles Clippers and Houston Rockets, and several disappointing losses, where they suffered due to the lack of a dominating presence in the final quarter.
Bryant is widely regarded as one of the greatest closers in the game and his teammates are eagerly awaiting the return of the 'Black Mamba,' who has been sidelined since mid-April with a torn left Achilles' tendon. [Full story]
Season over for Bryant after Achilles surgery
Kobe Bryant has undergone surgery on an injured Achilles tendon and could be sidelined for up to nine months, the Los Angeles Lakers said on Saturday.
Bryant, the fourth leading scorer in NBA history, sustained the injury late in the Lakers' win over the Golden State Warriors on Friday. [Full story]
Bryant out indefinitely with ankle sprain
Kobe out for season after quick operation
Bryant: 'I could play another three or four years'