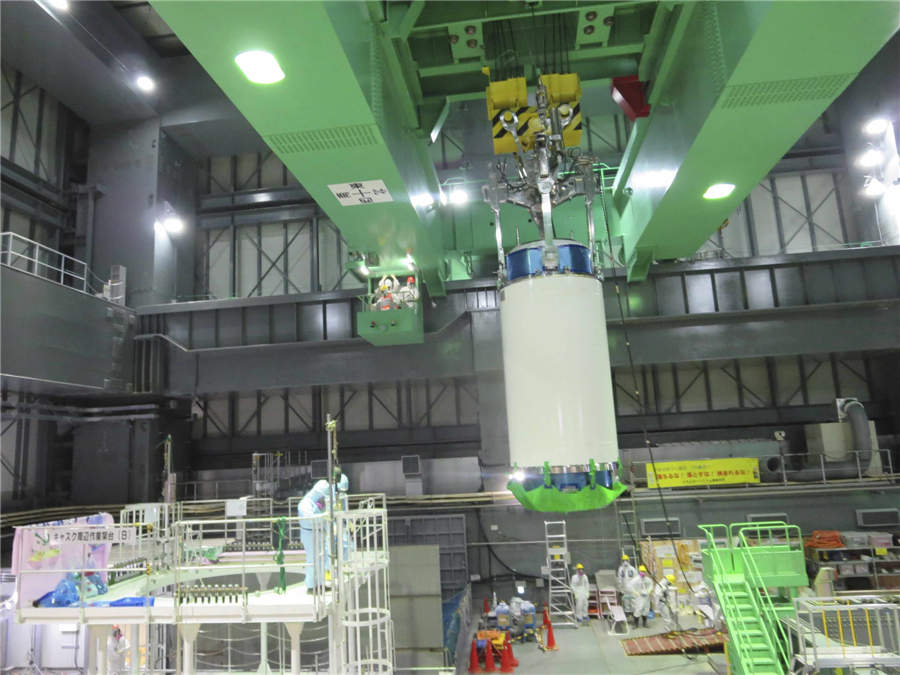 A cask (C) of nuclear fuel is lifted and moved by workers during operations to remove fuel rods from a spent fuel pool inside the No 4 reactor building at Tokyo Electric Power Co's (TEPCO) Fukushima Daiichi nuclear power plant in Fukushima prefecture November 18, 2013, in this handout photograph taken and released by TEPCO. TEOPCO began on Monday removing 400 tonnes of the dangerous spent fuel in a hugely delicate and unprecedented year-long operation fraught with risk. [Photo/Agencies]
TOKYO - The operator of Japan's wrecked Fukushima nuclear plant took the first step on Monday in the long and hazardous process of decommissioning the facility, extracting a fuel rod from its container for later removal.
Tokyo Electric Power Co said it transferred the rod to a steel cask within the same cooling pool in a badly damaged reactor building, beginning the delicate and unprecedented task of removing 400 tonnes of highly irradiated spent fuel from that reactor.
While battling leaks of radiation-contaminated water around the plant, which was knocked out by Japan's mammoth March 2011 earthquake and tsunami, Tepco has embarked on decommissioning four reactors at the Fukushima Daiichi plant. That task is likely to take decades and cost tens of billions of dollars.
The company must carefully pluck more than 1,500 brittle and potentially damaged assemblies from the unstable reactor No 4 Tepco estimates that removing all the rods from the reactor will take a year, although some experts say that is an ambitious target.
The cask holds 22 rods. Transferring this first batch will take about two days and it will take about a week to get the cask to the common storage pool in another building, a Tepco spokesman said.
Moving them is urgent because they are being stored 18 metres above ground level in a building that has buckled and tilted and could collapse if another quake strikes.
Removing the rods have been likened to taking cigarettes out of a crushed pack.
If the rods are exposed to air or if they break, huge amounts of radioactive gases could be released into the atmosphere. There are 50-70 in each of the assemblies, which weigh around 300 kg and are 4.5 metres long.