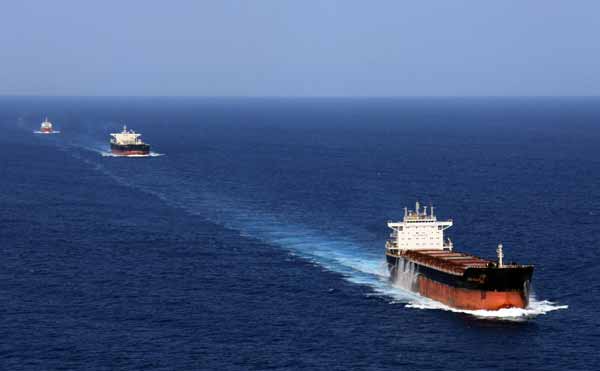 Three business ships are escorted by the 14th and 15th convoy fleet of the

Chinese People's Liberation Army

(PLA) Navy

in the Gulf of Aden

in this file photo of August 21, 2013.
  [Photo/Xinhua]
UNITED NATIONS - China on Monday vowed to continue its active participation in the international cooperation in the fight against Somali piracy.
Liu Jieyi, the Chinese permanent representative to the United Nations, who is also the rotating president of the Security Council for this month, made the remarks after a council meeting on Somalia piracy.
"China supports operations to fight piracy in this area," said Liu, who noted that to date China has dispatched 15 batches of 45 warships to engage in escort missions for 5,200 vessels in Somali waters. "Certainly we'll continue to work with other members of the international community in this area."
At the meeting held Monday, the 15-member body unanimously adopted a resolution to extend for another year the mandate for states and regional organizations to fight Somali pirates, and stressed the need for a comprehensive approach by the international community to tackle the root causes of the scourge.
"The resolution sends out a very strong message of cooperation between the members of the international community in combating piracy and armed robbery of the coast of Somalia," Liu said. "It also sets up a very important framework that will continue to enable member states to cooperate on this issue."
The Horn of African country has one of the most dangerous coastlines in the world due to rampant piracy which threatens not only maritime workers but also the coastal economy.
The Chinese envoy stated that past action by the Council has had very positive impacts on this issue. "We see falling curve in the number of reported incidents of piracy and armed."
"I hope the resolution adopted today could keep the good momentum in this area," he added.