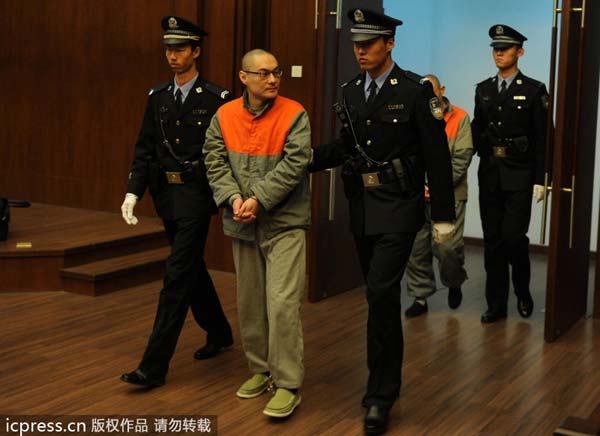 Baby-killer Han Lei is taken into the court for the second trial at the Beijing High People's Court, Nov 19, 2013.  [Photo/icpress.cn]
The man who was sentenced to death for grabbing a 2-year-old girl from a stroller and causing her death stood trial again on Tuesday.
Han Lei got the death penalty for homicide in September at Beijing No 1 Intermediate People's Court.
Beijing High People's Court heard the case on Tuesday, because some facts were unclear during the first trial.
The girl died after Han and her mother argued over parking in Daxing district of Beijing in July.
Han insisted that he did not mean to harm the child and appealed the conviction handed down by the intermediate court.
He said what he did was not intentional and appealed to the higher court. Han's new lawyer for the second trial also said his client did that without intention.
The court did not give the judgment during the trial.