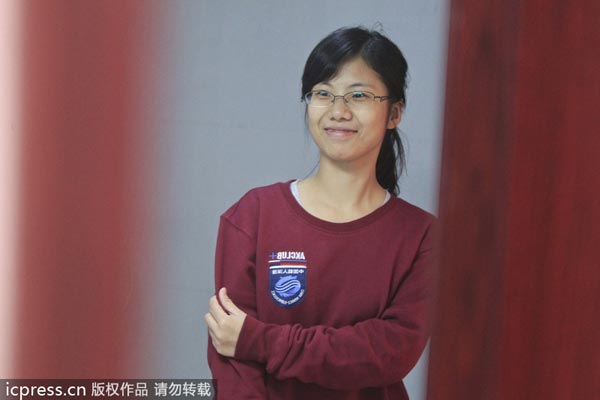 Zhang Huihui, a candidate for China's first two female oceanauts, poses with her uniform for the candidates, in Qingdao, Shandong province before participating in the selection of oceanauts, on Oct 25, 2013. [Photo/icpress.cn]  
The State Oceanic Administration introduced its first two female oceanauts on Tuesday, who will train for deep-sea missions on Jiaolong, the country's deep-sea manned submersible.
The two are Zhang Yi from Tangshan, Hebei province and Zhao Shengya from Anyang, Henan province.
Besides the two women, four men — Liu Xiaohui, from Linqu, Shandong province; Qi Haibin, from Linyi, Shandong province; Yang Yifan, from Fukang, Xinjiang Uygur autonomous region; and Chen Yunsai, from Shiyan, Hubei province — were selected to join the country's deep-sea dive team.
The six will join China's first two trained male oceanauts — Fu Wentao and Tang Jialing — who took part in a 7,000-meter dive project last year.
The age of the six new oceanauts ranges from 23 to 28, and they will join future deep-sea projects after successfully completing a two-year training program, from 2014 to 2016.
Liu Feng, director of the National Deep Sea Center, said the training will cover physical and mental exercises, studies of submersible maintenance, repairs and operation, and related sciences such as mechanics, telecommunications and engineering.
"With the rapid development of the country's deep-sea exploration, the oceanaut team will be further expanded in the near future," Liu said.