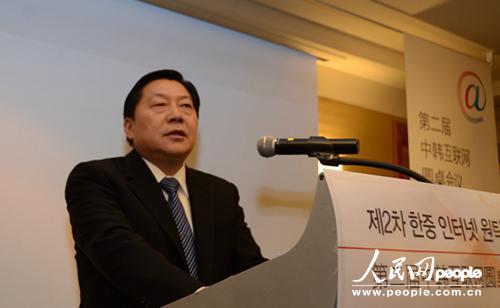 China's Minister of the State Internet Information Office Lu Wei delivers a keynote speech at the Second China-ROK Internet Roundtable in Seoul, ROK, on Dec 10. [Photo/people.com.cn]
China's top Internet regulators hailed the importance of Internet safety and eyed further cooperation with the Republic of Korea (ROK) on Internet governance, at the Second China-ROK Internet Roundtable in Seoul on Tuesday.
Lu Wei, minister of China's State Internet Information Office, and Choi Mun-kee, head of ROK's Future, Creation and Science Ministry, attended the forum, along with nearly 100 representatives from other government departments, Internet companies and academies in both countries .
"Internet safety safeguards innovation and development. Those who master better technology in boosting Internet safety could better meet future challenges and serve its people," Lu said in a keynote speech.
He proposed four areas of cooperation for China and ROK in Internet governance, including establishment of a multilateral framework for governance and use of the Internet under UN scrutiny, clamping down on illegal online behavior for a healthier Internet order, and joint efforts in protecting Internet privacy.
He also made four suggestions for cooperation between Internet industries from both countries, including joining hands on technological innovations, fully tapping into China's burgeoning Internet industry, and making Chinese and Korean culture more popular online.
In a speech, Choi Mun-kee expressed his expectations for future China-ROK cooperation on curbing online personal information leaks and online crimes.
China's Internet giants, including Sohu, Baidu, and Qihoo 360, also attended the forum.
The conference marks a successful Internet exchange platform, following the Sino-US, Sino-Britain and China-Emerging Countries Internet roundtable conferences.