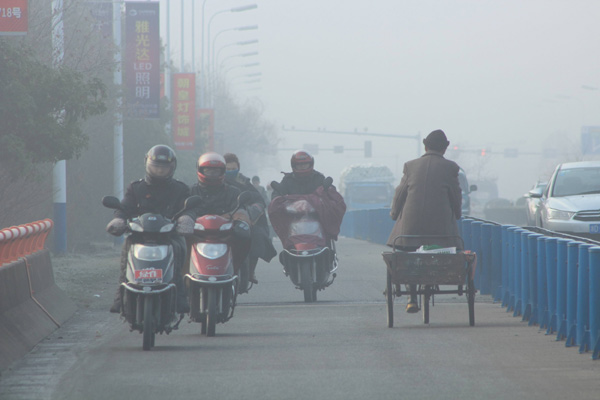 Residents ride motorcycles along a road during heavy smog in Shaoxing, an eastern city in Zhejiang province, on Feb 20, 2014.[Photo by Li Ruichang/Asiannewsphoto.com]
BEIJING - Fog and smog will blanket China's north and central regions on Thursday, the National Meteorological Center (NMC) said.
It will affect regions including those along the Yellow, Huaihe and Yangtze rivers, as well as south of the Yangtze, according to the NMC.
The national weather observatory forecast that visibility will be reduced to less than 1 km in parts of Shanxi, Shaanxi, Hebei, Henan, Shandong, Anhui, Jiangsu, Hunan, Jiangxi and Guizhou provinces on Thursday morning. In some areas, visibility will be less than 500 meters.
The NMC also said that light smog will shroud parts of northern China, areas along the Yellow, Huaihe and Yangtze rivers, Shaanxi province and the southwestern Sichuan Basin on Thursday morning. Some parts of these regions will experience moderate and heavy smog.