BEIJING - Heavy smog persisted in Beijing on Saturday after a final round of holiday fireworks revelry brought the air quality index (AQI) to 500, reaching Level 6, or severely polluted, on Friday evening.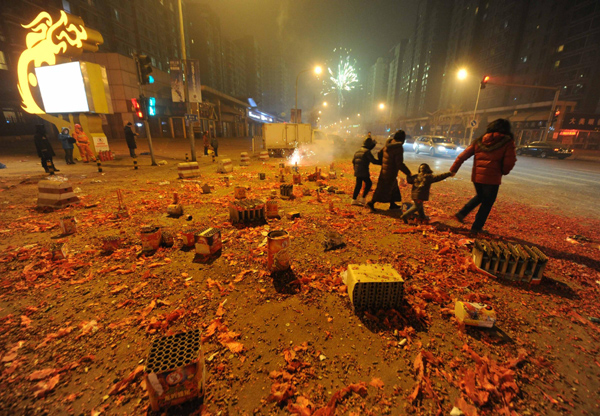 People leave after playing fireworks in Beijing on Friday. [Photo/Xinhua]
The Lantern Festival, which marks the end to China's half-month-long lunar new year celebrations, coincided with Valentine's Day on Friday.
The average AQI on Friday was 50 percent higher than that recorded on the Spring Festival eve, which often sees the most fierce firework displays of the holiday season. The highest PM 2.5 reading of 900 was recorded in Tongzhou District in eastern Beijing on Friday night.
Heavy smog has enveloped Beijing since Friday morning with AQI at stations in urban areas reaching Level 5, or heavily polluted. The city's weather department advised locals not to set off fireworks.
Most Chinese metropolitan areas such as Beijing ban fireworks year round except for the 15 days from the Spring Festival eve to the Lantern Festival.
Experts warned that fireworks, though not a main cause of smog and haze compared with construction dust and vehicle exhaust, can aggravate air pollution under extremely bad weather conditions.
Smog has persisted in Beijing for nearly a week. Sun Feng, senior engineer with the municipal Environment Monitoring Center, said the smog may start to disperse starting on Sunday.
Figures from the municipal firework office on Saturday showed that Beijing issued firework sales permits to 1,178 retailer stalls this year, down from 1,337 in 2013, and 1,429 in 2012. Some 385,000 boxes of fireworks were sold during the festival, down by 37.7 percent year-on-year. The number of people with firework-related injuries also fell by 31 percent from the number recorded last year to 145. No deaths were reported.