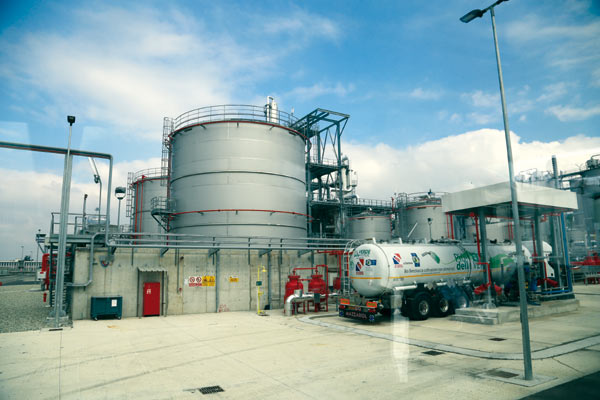 Experts say the second-generation plant in China will pave the way for more green and renewable energy developments. [Photo / China Daily]
Italian firm plans to build world's largest cellulosic ethanol plant in China
Commercial manufacture of cellulosic bioethanol from agricultural residue is expected to be given further impetus after commercial production begins in China next year, experts say.
Chemicals firm Chemtex Engineering Co said work on a new plant, that uses second-generation production technologies, will start soon in a southern China location. The company, a part of Mossi Ghisolfi Group of Italy, is a pioneer in the second-generation technologies and has a cellulosic bioethanol plant in Italy.
""We plan to invest $500 million (370 euros) in China for the conversion of one million metric tons of biomass into bio-ethanol and bio-glycols," says Sean Ma, president and chief executive of Chemtex China.
Bioethanol is considered an important green, renewable energy globally, and can be added to petrol as an additive. Bioethanol, petrol blends are commonly used in countries such as the United States and Brazil, and are important in reducing carbon emissions, boosting fuel quality.
Cellulosic biofuels are normally made from biomass such as wood waste, sugarcane and bagasse, a by-product of sugarcane or sorghum production, and are regarded as sustainable alternatives to corn-based ethanol and petroleum-based diesel.
Beta Renewables, a joint venture between Mossi Ghisolfi Group of Italy and biochemical company Novozymes of Denmark, which set up the first cellulosic bioethanol plant in Italy last year, has already indicated that it expects output to rise significantly in the long run.
"We will continue to commercially expand Beta Renewables' core technologies throughout the world, especially in China, as we are confident of the robust global demand," says Guido Ghisolfi, chairman and chief executive.
The Italian factory can produce 75 million liters of cellulosic ethanol a year from agricultural waste, making it the largest in the world. The company says it is also the only one of its kind that can produce bioethanol from agricultural residue and then convert it to energy on a commercial scale using enzymatic conversion. The plant mainly uses wheat straw, rice straw and arundo donax, a cane plant growing in damp soils, to produce ethanol.
Ma says the selection of the plant location is based on adequate feedstock supplies and a ready collection system. The investment would be the biggest bioethanol investment by an overseas company in China, he says.
There are two kinds of technology for making bioethanol, the first generation involving crop cultivation, which is widely used in China, and the second generation that uses agricultural residue, Ma says.
"Normally in China, first-generation bioethanol is made from crops, such as corn and cassava," says Zhao Xiangdong, the consul for science, technology, education and culture at the Chinese Consulate General in Milan.
China has seven big bioethanol facilities, and four of them, including Jilin Ethanol Co and Henan Tianguan, use first generation technology or grains as feedstock, says Michael Christiansen, president of Novozymes China.
Two factories use the 1.5-generation technology or cassava and sweet sorghum for fuel output, while only one factory, Shandong Longlive, uses corn-cob residue or second-generation technology.
China is focusing more on second-generation bioethanol technology to avoid competition between humans and bioethanol manufacturers, Zhao says.
China has set up a comprehensive and complete legal framework for the development of biofuels. The Renewable Energy Law encourages the use of renewable energies, while the 12th Five-year Plan (2011-15) has envisaged a production of 4 million tons of bioethanol by 2015.