Premier Li Keqiang meets European Council President Herman Van Rompuy (left) and European Commission President Jose Manuel Barroso in the Great Hall of the People in Beijing on Thursday. They attended the 16th China-EU leaders' meeting, which worked out a blueprint for bilateral relations in coming years. Wu Zhiyi / China Daily
BEIJING - Chinese Premier Li Keqiang on Thursday described as "unprecedented" a plan for bilateral cooperation between China and Europe.
"The plan is unprecedented in its breadth of content, ranging from aerospace and counter-piracy to urbanization and energy," Li told reporters after a 90-minute summit with European leaders at the Great Hall of the People, attended by European Council President Herman Van Rompuy and European Commission President Jose Manuel Barroso.
Li called the plan a "roadmap"for China-Europe cooperation until 2020, and said talks were planned on an investment protocol between the two sides.
Special coverage:

China-EU Summit


Related readings:


 Europe a mirror of future China


 Urbanization a fertile land for ties: Li


 Blueprint tightens EU links


 Li's Euro-Asia trip to boost co-op

Barroso was delighted by the plan for 2020, calling it strategic and detailed.
The two sides will also discuss the feasibility of a free-trade agreement and work towards the goal of increasing bilateral trade to one trillion U.S. dollars by 2020.
"All these moves will significantly boost bilateral trade and economic cooperation," Li said.
"Trade and investment issues remain high on our agenda and we have made a substantial step forward by launching negotiations on an investment agreement, covering both investment protection and market access," Rompuy said. "A level playing field, transparency and confidence in the rule of law are essential on both sides for business to thrive."
Both sides agreed to keep their markets open, oppose protectionism and deal with trade disputes through dialogue and friendly consultation. They will take effective measures to expand bilateral trade on high-technology.
They will work more closely on transportation and infrastructure, cooperate on science and technological innovation, while developing new energy sources and materials together.
The two sides will give full play to their high-level cultural communication and dialogue mechanism to expand exchanges in areas including education, culture, youth and public policy.
They also vowed to strengthen cooperation on international and regional issues, such as the climate change, internet security, arms control and nonproliferation.
In China-Europe relations, common ground outweighs differences, Li said, attributing those differences to their histories, cultures and  development stages.
"Any problem in China-Europe relations can be resolved as long as we increase communication and enhance understanding," Li said.
He said China and Europe strengthening cooperation is in both sides' interests, and will send positive signals of peace, development and cooperation to the world.
China firmly supports Europe's integration, and is glad to see a strong, prosperous and united EU.
The combinations of two cultures and two markets will lift China-Europe relations to a new high, Li added.
Stressing that the two economies had become interdependent and trade volume had quadrupled, Barroso said Europe-China relations are not only represented by trade, but also by politics, security and culture.
Barroso said Europe and China are now at a turning point, citing Europe's own market reform and China's situation after the recent Communist Party of China plenum.
Barroso said Europe supports the Chinese economy to be more inclusive and sustainable.
Following the summit, Li, Rompuy and Barroso witnessed the signing of three deals on energy, intellectual property rights and agri-technology.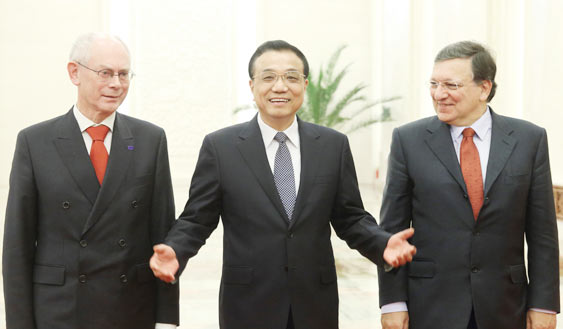 Premier Li Keqiang meets European Council President Herman Van Rompuy (left) and European Commission President Jose Manuel Barroso in the Great Hall of the People in Beijing on Thursday.[Photo/Xinhua]