New quality and safety rules may stifle sales prospects of TCM in the European market.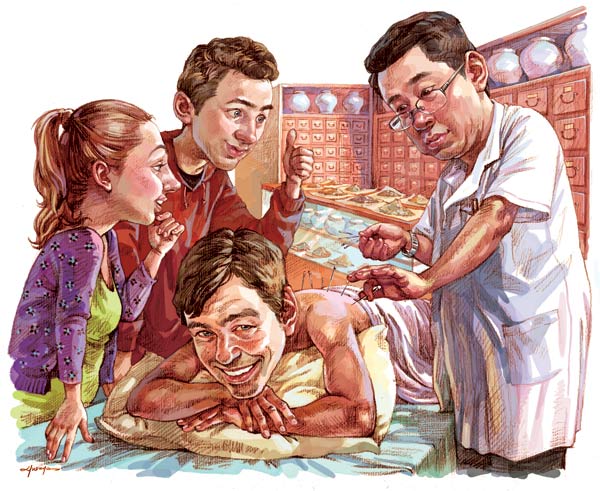 Li Min/China Daily
In London's Chinatown, a poster in Chinese urges customers to stock up on traditional and other patent Chinese medicines before an impending ban on patented TCM products from next year.
At TCM clinics in London, patients still keep trickling in for acupuncture and massage services. However, there is a lull in demand for various Chinese herbal and patent medications because customers seem to be wary of the Medicines and Healthcare Products Regulatory Agency's forthcoming decision.
Therein lies the twist in the tale. Just as traditional Chinese medicine makes waves in the UK and the rest of Europe with alternative therapies such as acupuncture and massage, it finds itself being denied market access for medications.
Traditional Chinese medicine, which has evolved over 4,000 years, relies largely on patented and herbal medications to prevent and help the human body fight ailments, and treatments to relieve pain and restore balance in the body.
According to the proposal the MHRA floated on July 9, the sale of all unlicensed manufactured herbal medicinal products will be halted in the UK from next year. The MHRA is a British government agency that is responsible for ensuring that medicines and medical devices used in the UK are safe.
The proposal is not targeted specifically at TCM. Andrea Farmer, MHRA's herbal policy manager, says: "The decision was taken on the basis of the Traditional Herbal Medicinal Products Directive, incorporated by the EU in 2004, which stipulates that all the manufactured herbal medicines in the EU market should have a suitable product license."
The directive also introduced the so-called simplified registration procedure with a seven-year transition period for traditional herbal medicinal products to be licensed, including Chinese and Indian traditional medicines.
That period ended in April 2011. After that, the MHRA allowed products that were lawfully in the market before April 2011 to continue being sold, so retail businesses holding huge inventories were not unduly affected.
Although the regulator is yet to finalize its proposals and is still studying the various responses, TCM practitioners hope that a favorable decision will help rejuvenate it in Europe. But the real problem as most experts say is TCM's difficulties in getting licensed in the UK and Europe.
Not the right prescription for European regulators
Testing times ahead for Chinese medication
Needling away to gain big sway