China's newly announced air defense identification zone does not target "normal" flights by international airliners, the Foreign Ministry said on Thursday, as Chinese fighter jets patrolled the zone.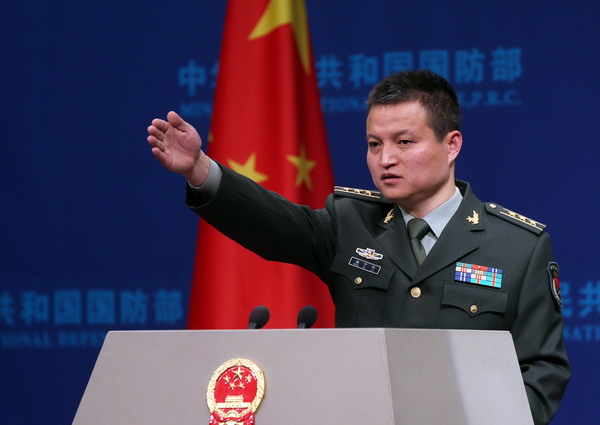 Defense Ministry spokesman Yang Yujun takes a question from the press at a regular news briefing in Beijing on Thursday. [Zou Hong/Asianewsphoto]
Beijing rejected Japan's demand that it scrap the zone, saying Tokyo should invalidate its own zone first.
Foreign Ministry spokesman Qin Gang said China's zone is not aimed at international airliners. "We hope that relevant countries' airlines cooperate, so there is more order and safety for flights."
Civilian flights have been operating safely and normally since China announced the zone, which covers its Diaoyu Islands, on Saturday, Qin said.
China requires aircraft to provide a flight plan and their identification and to maintain two-way radio contact to respond to identification queries from Chinese authorities.
Qin said airlines from many countries and regions have reported their flight plans to the Chinese authorities.
Shen Jinke, spokesman for the PLA air force, said Chinese fighter jets carried out a regular patrol in the zone on Thursday.
Such patrols are for defense purposes and in line with international practice, Shen said.
Defense Ministry spokesman Yang Yujun said at a news conference on Thursday that Tokyo, which asked Beijing to cancel its zone, set up its own air defense zone in 1969.
More than 20 countries, including the United States and Japan, have established such zones.
"If they want China to cancel the zone, then we would ask that Japan first revoke its own zone. Japan consistently blames others and smears the name of other countries but never examines its own conduct," Yang said.
Japan will unveil its updated long-term defense policy next month, which calls for stronger air and maritime surveillance capabilities, citing threats from China.
Japan and South Korea said on Thursday that their military planes have flown through China's air defense zone.
Two US B-52 bombers flew through the zone on Tuesday. China's Defense Ministry said the military monitored the entire process and ascertained they were US aircraft.
Gary Li, a Beijing-based senior analyst with consulting group IHS Aerospace, Defence and Maritime, told Reuters he does not believe People's Liberation Army planes will patrol extensively in the defense zone.
"I think it will be more a case of China flying enough planes to make a point — it is quite a strain on any force to maintain some kind of 24-hour presence in the air," he said.
"It must be remembered that this is not a no-fly zone — China doesn't have to operate extensive patrols to make its presence felt."
Li said he believes that coastal air defense radar will be used for routine coverage of the new zone.
Planes — whether surveillance aircraft or fighter jets — will be used generally for more specific tasks, he said.
Xing Hongbo, a military expert, said the methods to identify foreign aircraft also include technical detection.
"China has successfully identified those foreign aircraft, meaning that it has achieved early-warning through the zone," he said.
Biden's focus
In Washington on Wednesday, a senior US official said in a briefing on Vice-President Joseph Biden's Asia trip that he will convey US concerns directly to Chinese leaders and seek clarity regarding China's intentions.
Biden leaves on Sunday, heading to Japan, China and South Korea.
Xing said: "There is no reason for the US to blame China for establishing such a zone, because Washington was the first ... to set up such a zone. It also strengthened its air defense zone system after the Sept 11 terrorist attacks.
"It is Japan's illegal 'purchase' of China's Diaoyu Islands that fueled tensions in East Asia."
The US official, who did not give his name, said of Biden's visit: "He's going to have a very high-level and a very wide-ranging dialogue with the senior Chinese leadership that covers a wide range of shared interests along with areas of concern.
"He will pick up where President (Barack) Obama and President Xi (Jinping) left off after Sunnylands and the G20, with the kind of high-level personal engagement between the top leadership of our two countries that is an essential part of advancing the US-China relationship in the 21st century," the official said.
He was referring to the informal summit between Xi and Obama at the Sunnylands private estate in California in early June.
Reuters contributed to this story.