China and Uzbekistan signed agreements on Friday to boost tourism, cultural exchanges and financial cooperation.
Treaties covering cultural and tourism exchanges, as well as the exchange of customs information, were agreed after talks between Premier Li Keqiang and Uzbek Prime Minister Shavkat Mirziyoev in Tashkent.
China Development Bank signed an agreement to lend $10 million to the central Asian country. A memorandum of understanding for $40 million was also signed.
Mirziyoev said he expects the countries will boost cooperation in the non-energy sector and hi-tech industry.
Li arrived in Uzbekistan on Thursday to attend the prime ministers' meeting at the Shanghai Cooperation Organization.
Li flew to Tashkent after wrapping up a four-day visit to Romania.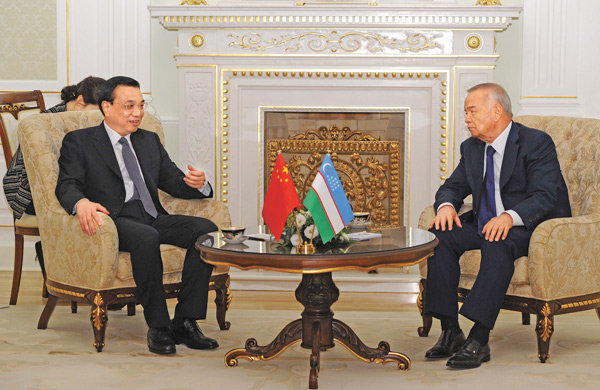 Premier Li Keqiang meets Uzbek President Islam Karimov in Tashkent on Thursday.[Photo/ xinhua]