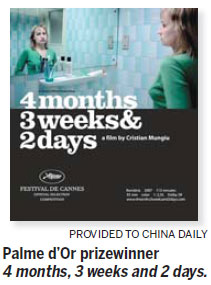 Romanian movies were once a favorite among Chinese filmgoers, drawing large audiences in the mid-1970s and the early 1980s.
Now the country's "New Wave" filmmakers, who have emerged in the past decade, are dazzling a new generation of Chinese cinephiles, winning prizes at Cannes and elsewhere with the help of government funding.
Three decades ago, many Chinese people were familiar with Romanian films and their settings. While many saw the films in cinemas, it was more common then for screenings to take place at workers' clubs or outdoor screenings.
In an era when televisions were still a luxury for most families and the Internet was yet to be invented, these films were sweet treats for film lovers.
Scriptwriter Shi Hang, 42, saw a Romanian film for the first time when he was just 7 years old, and he was immediately impressed. He was with his parents in a packed cinema to see Alarm on the Danube Delta, a film about children saving cultural relics from smugglers.
For Shi, the Romanian films were better than those of other socialist countries at the time, with a wider range of subject matter, good story lines and better character development.
"I find Romanian films more commercial, in other words, the stories are solid and characters engaging. The characters are complicated and their fate is often destined, which enhances their charm."
Related:
New version of The Demi-Gods and Semi-Devils hits TV
'Catching Fire' ignites global box office with $307.7 million