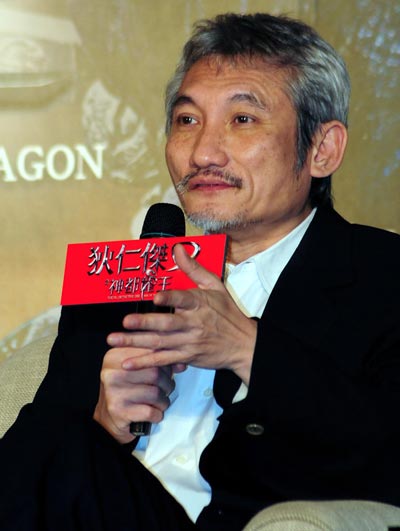 Director Tsui Hark attends the news conference for "Young Detective Dee: Rise of the Sea Dragon" in Taipei, Taiwan province, Oct 3, 2013. [Photo/Xinhua]
The Rome Film Festival announced its winners at an awards ceremony on Saturday night. Hong Kong film director and producer Tsui Hark, who is proclaimed by many as one of the visionaries behind the heyday of Hong Kong cinema in the 1980s and 1990s, was honoured with the Maverick Director Award.
Tsui Hark received the "Maverick Director Award" from renowned French director Olivier Assayas. The award is given to auteurs who have contributed to the invention of a new, nonconformist cinema.
Tsui was one of the founding fathers of the film revolution in Hong Kong which began in the late 1970s. His films spawned a new idea for popular cinema, leaving its mark around the world. His well-known series "A Better Tomorrow" has influenced Hollywood action films for the past three decades.
In the award presentation speech, juries praised his films that can "straddle traditional genres and innovation, auterism and commerciality, celebrate exciting action, and address its Chinese cultural identity with no ideological buffers".
Tsui's new film, "Young Detective Dee: Rise of the Sea Dragon", was also presented Out of Competition in its international premiere after the awards ceremony. Tsui said he made every effort to find a new direction for detective movies and avoid story lines similar to that of Sherlock Holmes.
The much anticipated 3D movie was a prequel to the award-winning fantasy Kungfu film "Detective Dee and the Mystery of the Phantom Flame" from 2010. At the press conference Tsui also confirmed the third instalment of the series is in pre-production.