Konstantinos Kontovrakis was a programmer for the Thessaloniki Film Festival until 2009, when he quit to become a film producer. Unfortunately, that was the year "the whole mess started," as he put it, meaning the Greek economic crisis that continues to affect the global economy. "Since then, I haven't made a lot of money."
But he has made films, and so have a number of his compatriots. Despite having to negotiate a rocky financial landscape, they are creating a new and newly independent strain of Greek cinema, a movement The Guardian of London called the Greek Weird Wave.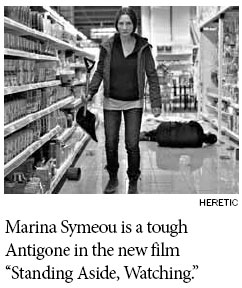 "Miss Violence," a harrowing drama by Alexandros Avranas, won the best director prize at the Venice Film Festival in September. That same month, the Toronto International Film Festival's City to City program showcased a number of films out of Athens, including "The Eternal Return of Antonis Paraskevas," with its droll social commentary; "Standing Aside, Watching," a contemporary western with a heroine named Antigone; and "Wasted Youth," a drama about skateboarding culture in a city in crisis.
Mr. Kontovrakis was a producer of "Standing Aside, Watching," directed by Yorgos Servetas; Giorgos Karnavas was a producer of "Antonis Paraskevas," directed by Elina Psikou. They were both producers of "Wasted Youth," and they produced "Boy Eating the Bird's Food," the Greek entry for the Oscar for best foreign-language film next year.
In Europe, filmmakers have traditionally entered "schemes" - involving film board or lottery proceeds - or they haven't gotten their films made. In the debt crisis aftermath, Greek directors and producers are on unfamiliar turf.
Without financing sources like the Hellenic Broadcasting Corporation, the national agency that closed in June, few replacements have stepped in. "Some distribution companies contribute money, and some TV, but other than that, it's personal investment," said Fenia Cossovitsa, another "Standing Aside" producer.
Whether the country's finances have inspired cinematic themes is a complicated question. "Especially with foreign people, it's in their minds all the time," Mr. Karnavas said. "Everybody's thinking about it, everybody has their own definition of what it means. It's a very bad time financially, but the fact is that Greek society was torn apart before. The same exact things were there, but nobody had to pay them any attention."
Mr. Kontovrakis said the economic crisis is increasing the influence of right-wing extremists and exacerbating racism that all of Europe has experienced in the wake of rising immigration. "I grew up in a country that took pride in not being racist," he said. "Now racism has become almost the norm."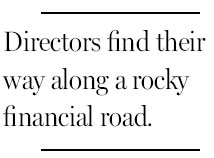 But do the films reflect these changes?
In "Standing Aside, Watching," Antigone pursues a gang of thugs. One of them has an abusive relationship with her friend, Eleni.
"When the economic collapse took place, that's when Yorgos needed to make Antigone the protagonist of the film, and not Eleni, because he wanted a stronger character and not a victim," Mr. Kontovrakis said. "This is a good example of how the crisis has infiltrated the filmmaking."
The New York Times