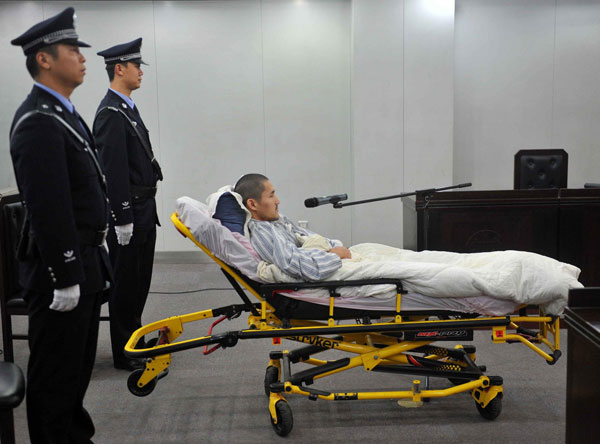 Ji Zhongxing, a wheelchair-bound man setting off explosives at Beijing airport in July, is on trial at the Beijing Chaoyang District People's Court in Beijing, Oct 15, 2013. [Photo/Xinhua]
Beijing No 3 Intermediate People's Court upheld the original verdict Friday for Ji Zhongxing, who was sentenced to six years after setting off explosions at Beijing Capital International Airport in July.
Ji received his sentence from Beijing Chaoyang District People's Court on Oct 15, and he appealed to the higher court, claiming the verdict disobeyed judicial procedures and the punishment was too heavy.
But the intermediate people's court said Ji, from Shandong province, took homemade fireworks to the airport with a complaint and then set them off, injuring himself and a police officer, committing the crime of explosion.
So the higher court decided to keep the previous sentence. Ji said he was handicapped because he was hit by two men while working in Guangdong province, which was why he was trying to file a petition.
After the airport incident, the provincial government said they would deal with Ji's case and conduct a further investigation, but so far it has not given him a response.