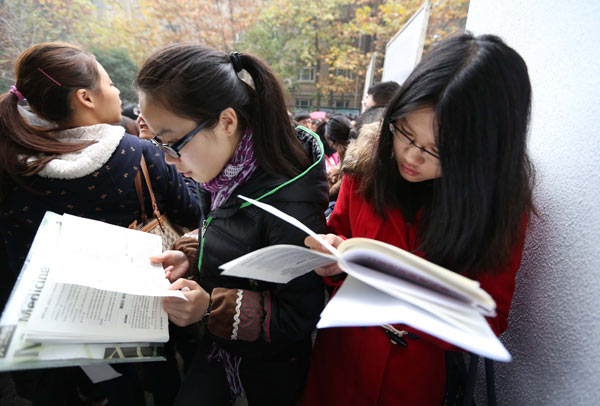 Candidates review crash-course materials before taking the national civil service exam at Nanjing Forestry University in Jiangsu province on Sunday. About 1.12 million people took the exam on Sunday for some 19,000 jobs. Wang Xin / for China Daily

Record number of college graduates entering market vie for 19,000 posts
Competition for government jobs has become fiercer, with the same number of job seekers taking the national civil service exam on Sunday as last year, but for fewer job opportunities.
Experts said that a record number of college graduates entering the labor market this year plus increasing transparency in the recruitment of civil servants has led to the situation.
Some 1.12 million applicants took the annual national civil service exam on Sunday, but only 19,000 will be hired by the central government, according to the State Administration of Civil Service.
Some 1.52 million people qualified to take the exam on Sunday after applying online a month earlier. About 400,000 of those did not take the exam.
This year saw a decline of 1,000 job vacancies from the previous year.
About 7,200 people competed for the most popular position as a researcher with the State Ethnic Affairs Commission.
Li Huanzhong, a student from Nanjing University who took the exam in Beijing, told China Daily he was happy with his exam performance.
"There are too many questions for the administrative professional ability test and I could not answer them all, but in general, the exam was not difficult for me,' he said.
Li said he applied for a position with the Ministry of Foreign Affairs. The French major believed that what he learned in college is applicable for the position.
"This exam is one option but not the only one for me to find a job," he said, adding he will also look for jobs at State-owned enterprises and public institutions.
Liu Qing, 26, took the exam in Guangzhou, Guangdong province. The current administrative employee at a local university said the exam was difficult for her because she could only spare one or two hours each day after work to study for two months prior to the exam.
Liu said she applied for a post in the State Intellectual Property Office because it is the most related to her major of materials science.
Cai Yingbo, a mother of a 24-year-old applicant from Siping, Jilin province, was eagerly waiting for her daughter near the gate of the Beijing No 55 Middle School on Sunday afternoon.
"I think government jobs guarantee stability and good wages," said Cai, who viewed such an occupation as ideal for her daughter, a university senior who applied for a position with the Ministry of Science and Technology.
The written exam has two parts — an administrative professional ability test that took place on Sunday morning and a selection of essays in the afternoon.
This year, examinees had an extra half-hour for essay writing, which lasted two and a half hours last year.
Yang Yalin, a teacher from Huatu Education, a private training institution focused on civil service exams, said he welcomed the change as giving more time for applicants to write essays can better reflect each individual's analytical ability and thinking.
"The administrative professional ability test is full of multiple choice questions, but essays can better examine someone's ability of problem-solving and independent thinking," he said.
The tough employment situation for nearly 7 million college graduates this year has pushed more college students to take the civil service exam, he said, adding that the number of students taking his organization's training courses increased by 20 percent year-on-year.
"Becoming a public servant means you step on a career path with decent pay and good social welfare. It sounds attractive for many young graduates, especially for women," he said.
Liu Xutao, a professor at the Chinese Academy of Governance in Beijing who specializes in human resources studies, said the national civil service exam has appealed to more young job hunters in recent years because it is relatively fair.
"We have seen the government has made a lot of efforts to increase the transparency of the civil service exam, including online notification of the finalists and the establishment of a credit record for applicants to punish rule breakers," he said.
Contact the writers at hedan@chinadaily.com.cn, fanfeifei@chinadaily.com.cn and wuni@chinadaily.com.cn