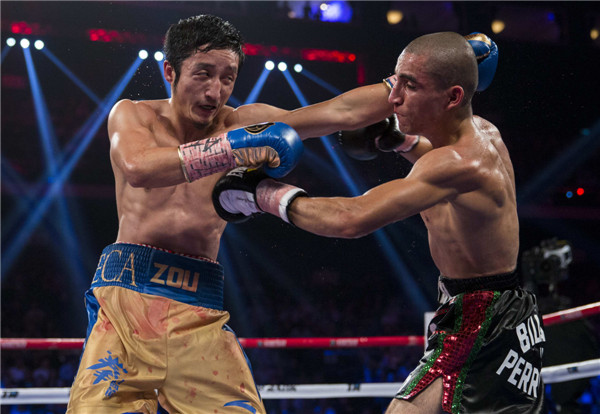 China's Zou Shiming (L), two-time Olympic gold medal winner and three-time World Amateur Champion, fights Mexico's Juan Toscano during their World Boxing Organisation (WBO) flyweight boxing match at the Venetian Macao hotel in Macao Nov 24, 2013.[Photo/Agencies]
MACAO - China's two-time Olympic gold medalist Zou Shiming won a unanimous decision in his third professional boxing bout here on Sunday, facing Mexico's Juan Tozcano at Macao.
Zou's six-round flyweight fight was one of the series bouts of Cotai Clash at the Cotai Arena in the Venetian Macao Resort. He didn't disappoint the audience and gave his opponent very hard time with big shots. Zou's defense was also successful that he avoided a lot of punches.
"As a rookie for the third pro fight, I would give myself eight score. But if as a future champion I would give myself a five." Zou said. "The difference of the three point is I want to deliver a knock out, and I still have many things to learn."
Zou won China's first Olympic boxing gold medal at the 2008 Beijing Games, adding a second gold last year in London. The 32- year-old flyweight then signed with Top Rank promoter Bob Arum, and teamed with veteran trainer Freddie Roach.
Arum was pleased with Zou's improvement in all the three fights and said he was planning to put Zou in a world title fight next year.
Presented by Top Rank and Sands China Ltd., the Cotai Clash featured Filipino superstar Manny Pacquiao against Mexican- American Brandon Rios. In the 12-round welterweight fight, Pacquiao won a unanimous decision and claimed the WBO International Welterweight Title.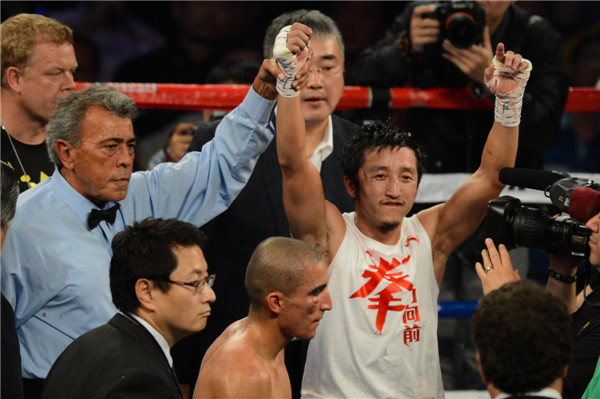 Zou Shiming celebrates after defeating Juan Toscano of Mexico at World Boxing Organisation (WBO) flyweight boxing match at the Venetian Macao hotel in Macao, Nov 24, 2013.[Photo/Xinhua]