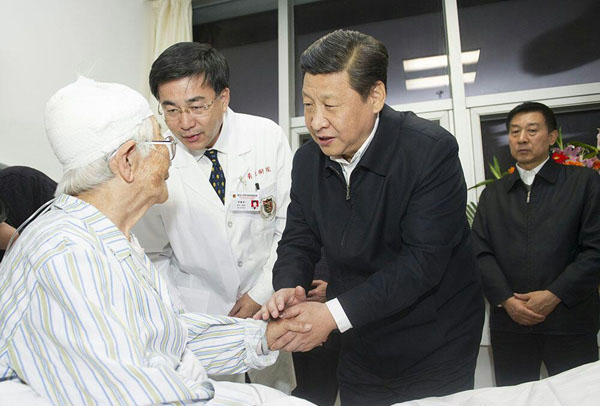 Chinese President Xi Jinping visits a survivor from Friday's oil pipeline blast at the affiliated hospital of Qingdao University in Huangdao district, Qingdao, East China's Shandong province, on the afternoon of Nov 24, 2013. Fifty-two people were confirmed dead in the blast.[Photo/xinhuanet.com]
As the death toll from Friday morning's explosion in Qingdao, Shandong province, rose to 52 on Sunday, officials ruled out the possibility of further blasts but said they will continue to monitor the situation closely.
Eleven people are still missing and 136 are receiving hospital treatment.
Officials said the blast happened when crude oil that had leaked from a ruptured pipeline ignited in storm drains in the Huangdao district.
City authorities had been concerned about the potential for further explosions because the force of the blast ruptured a number of pipelines in the area and buckled many others.
President Xi Jinping arrived in the city on Sunday afternoon to inspect the rescue efforts. After visiting blast victims at a hospital in Huangdao, he was given updates on the latest situation, according to reports on China Central Television on Sunday evening.
Xi said he was saddened by the loss of life and the devastation caused by the accident. He promised that the people responsible would be dealt with according to the law, and he pledged that people whose relatives had died or been injured would be compensated.
He said State-owned enterprises must take the lead in the "safe development" of Chinese industry and stressed that local governments should reject any project that poses a potential safety hazard to the general public. Xi also emphasized that officials should learn the lessons of previous accidents and said safety inspections must be carried out nationwide, especially on underground pipelines and networks.
The explosion blew a crater in the street about 30 meters in diameter and 6 meters deep. On Sunday, the rain poured as cranes lifted pieces of concrete about 20 cm thick from the crater, which was full of black wastewater mixed with crude oil. A strong smell of gasoline lingered in the air along Huangdao's 4-km main road, which was ripped apart by the blast.
Qingdao municipal government has ruled out the possibility of a terrorist attack, and said the economic damage to the area is still being assessed.
Complicated network
Friday's blast occurred at around 10:30 am, as workers were cleaning up fuel that had been spotted leaking from the pipeline more than seven hours earlier. Angry local residents are now asking why no official warning was given when the leak was initially discovered and why the pipeline was situated so close to a built-up area.
Under regulations that came into force in 2003, crude oil pipelines must be situated at least 15 meters away from public places and residential areas. They must also be at least 20 meters from factories and production areas.