I found it very difficult to summarize nearly six years of my experiences in China. It seems simple enough but when studying and working and again studying in China becomes who you are, trying to sum it up means taking a trip back into time through the most eventful, revealing, and inspiring periods of a life. I arrived in China after completing my undergraduate.

In 2004, I started studying Chinese language and literature. From that very time, I had a desire to come to China. How I started studying Chinese language is also a very interesting story. That time, I was a student of History major in Delhi University. Suddenly, One day I came through an article about Chinese Language. That article was about importance and scope of knowing the language. That article impressed me very much and I decided to study Chinese language. So, to be very frank, in beginning, my goal was to get a white color job with handsome perk in a multinational company. But, the more I study the language, the more I get fascinated with the history, culture, society, art, food, movies, the vastness, and diversities of China.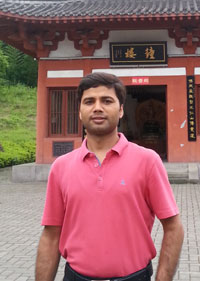 Vikash Kumar Singh,a PhD Candidate Dept Of History Peking University.Photo provided to chinadaily.com.cn
Student life
In 2007, I got Chinese government scholarship for one year Intensive Course in Chinese Language and Literature. I got offer from Renmin University of China. The University campus is not very big, but it has more than twenty thousand students from every corner of China including foreign students. Chinese students are very hardworking and studious. I was surprised when I found a student was memorizing pocket English dictionary. In India, I never tried to memorize a dictionary. In university, there is a kind of English fever. Every student wants to learn and speak English. Renmin University has an "English Corner" where on every Friday lots of students gather and practice English. In China, every big university has such kind of corner where students improve their language skill through group discussions.
There was an interesting rule in university that Chinese student's dormitory light turn off at eleven o'clock in night. Most of the students get up early in the morning and chant some lessons in field and beautiful corners of the campus. It reminded me one phrase, "early to bed and early to rise, makes a man healthy wealthy and wise".
Chinese students are very helpful. They are always ready to help foreign students. I had lots of Chinese friends. I not only practiced my Chinese with them, but also learnt a lot of things about China. In 2008, I continued my study in the same university as a Master degree student. This was the real test of my Chinese language ability, because I was enrolled in that course which was being taught in Chinese. Fortunately, my friends did their best to help me and made my study successful.
There were many students' activity clubs in university. During my study period, I participated in lot of students' activity clubs, for example, badminton club, table tennis club, and cricket club. So, from 2007 to 2010, I had wonderful time in university. I learnt a lot from my Chinese friends. I want to say to my Indian friends that, Chinese students are very laborious and hard working. We should learn from them. But at the same time, Chinese students are not argumentative. They are very shy and never ask questions during class. I think a Chinese professor has lot of patience, because they can give three hours non-stop lecture. I was not used of so long and sometimes boring lecture. But my Chinese classmates enjoyed this kind of lectures with playing game on their mobile, reading something else and sometimes having three hours nap.
At CRI (CHINA RADIO INTERNATIONAL)
After graduating from University, I got a job offer from China Radio International, which was a new challenge for me and an opportunity as well. CRI aims to promote understanding and friendship between the people of China and people throughout the world. CRI has more than two hundred foreign experts. I was working in Hindi department. As I had advantage of knowing Chinese language, I got appraisal from every member of my department. They all were my teacher, friend and colleague. Being in CRI was also a life time achievement. I was responsible for three program viz. Travel in China, Listener's Garden and China Horizons. It was a difficult task, but with the help of my Chinese colleague I successfully finished this task. Through this program, I came to know there are a lot of stereotype thinking between India and China. Indians have very little knowledge about Chinese society, politics, economic progress, education. So, it was a challenging task for me to give our listeners real information about China. I tried my best to give them desirable knowledge through my program. Travel in China was very popular among Indian listeners. I got lot of response and letters from them. Every letter showed me their curiosity about Chinese history, politics, culture, society, economy. Their letters' not only inspired me, but also gave me chance to know more about China. CRI is really playing a role of Knowledge Bridge between China and India. I am proud to be part of CRI's family.
During my two years engagement with CRI, I had many chances to visit different parts of China. I went to Anhui, Gansu, Guangzhou, Hangzhou, Jiangxi, Jiangsu, Qinghai, Shanxi, Shaanxi, Sichuan, and Xinjiang for reporting and interview with local people. These places gave me a real picture of China. Two things impressed me very much; one was road and second was electricity. Even the most remote areas were well connected through highways and had 24 hours electricity supply. Southern part of China is well developed but western parts are less developed. In India, there is a famous quote, "Kaam adhik baten kum—work more, talk less". But this slogan was practically used in China, which resulted in 2nd largest economy in the world. Most of the southern parts have wonderful tourist sites. Chinese government has paid much attention towards tourism and tourism has really developed in a rapidly flourishing industry in China. I would like to suggest my Indian friends to visit China and learn from Chinese friends to develop tourism in India as well. We have to learn from China in many fields such as infrastructure development, manufacturing, agriculture etc.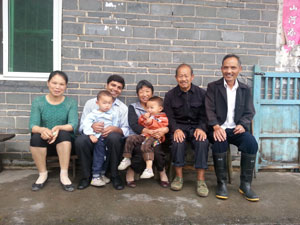 Vikash Kumar Singh(2nd left behind the child) pose for a group photo with Chinese. The Photo provided to chinadaily.com.cn was taken in Hunan province. 
While working in CRI, I was missing university campus. In fact, while writing some scripts, I felt my knowledge about China was limited. So I decided to come again in university campus. But this time I got offer from one of the most prestigious university in the world, Peking University. Now, I am pursuing my PhD in Modern Chinese History.
Back again in University
When I was seven, I saw a quote—School is a temple of learning, which was written on the gate of my primary school. But after graduating from school, I never had such kind of feeling. I never felt that Schools are really a temple. It was Saturday morning, when this feeling again came in my mind. I was at my university (Peking University) gate and saw a lot of people were waiting outside at the gate in a long queue. One of my Chinese friends told me that, in China, every university is like a temple, where people from different places, often come to visit. Peking University is a dream for every Chinese student. When they roam around the campus, I can see that feeling on their face. The University's traditional emphasis on patriotism, progress, democracy and science, together with its educational standards of diligence, precision, factualism and innovation have been passed down from generation to generation. I am proud to be part of this family and wish to give my contribution to enhance friendship between India and China.
Vikash Kumar Singh is a PhD Candidate of the Deptment Of History, Peking University.