Train capable of 400 km/h ready to boost region's connectivity by 2020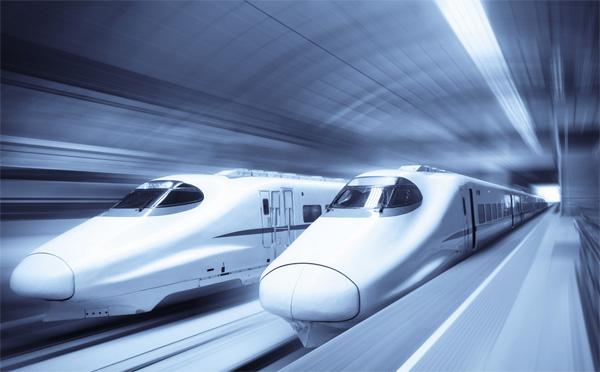 File photo shows high-speed rail in China. [Photo / Xinhua]
China is working on next-generation bullet trains with a maximum operational speed of 400 kilometers per hour that will be ready by 2020 for markets linked to the Belt and Road Initiative's vision, the country's top railway vehicle maker said.
"We will apply new materials in the research and production of the future high-speed trains, such as carbon fiber and aluminum alloy, which will help reduce weight and enhance energy efficiency," said Qiao Feng, a senior engineer at the CRRC Changchun Railway Vehicles Co, a subsidiary of China Railway Rolling Stock Corp.
The new trains will be available in Belt and Road Initiative markets, and will be able to reduce per passenger energy consumption by 10 percent compared with high-speed trains that can run 350 km/h. The CRRC will be the manufacturer and exporter, according to Qiao.
Once available, by around 2020, the new trains are expected to promote regional connectivity and create new business for China and overseas economies through the Belt and Road Initiative, Qiao added.
Feng Hao, a rail transportation researcher at the National Development and Reform Commission, said that the 400 km/h high-speed train project would help many heavily populated countries change their commuter transportation from a long dependence on automobiles.
"Because many markets along the Belt and Road Initiative, especially in Central Asia, Southeast Asia, the Middle East and Eastern Europe countries, are planning to build high-speed rail lines or to upgrade their existing systems, they are eager to gain technological support from China to assist in daily operations, maintenance and staff training."
China will test the new bullet train alongside a portion of the Beijing-Shenyang high-speed railway line, Qiao said. The test railway line is to be completed by 2019.
Liu Youmei, an academician at the Chinese Academy of Engineering, said it is still not cost-effective to run a high-speed train at 400 km/h domestically because elements such as bearings, electric contacts and track must be replaced more often.
But, he said, with new railway lines and lower costs for parts and service, it will not be a problem.
In the past decade, China has built the world's largest high-speed rail network and become a leader in offering high-speed train products and services. The country has passenger train services running at operational speeds of 200 to 250 km/h and currently has the technology to produce trains with a top speed of 350 km/h, according to the National Railway Administration.
Qiao said that once the project is completed and with improvements in technologies and equipment, China can also adopt the new technology at home.
As China already made a breakthrough in high-strength bearings made by Taiyuan Iron and Steel (Group) Co earlier this year, the country will be able to supply parts and equipment to domestic and foreign railway service operators in a more cost-efficient way.
Contact the writers at ouyangshijia@chinadaily.com.cn