One of the country's most acclaimed foreign actors talks shop with Chen Yingqun.
Jonathan Kos-Read isn't Chinese - but he's about as close as a foreigner gets. The 39-year-old American actor, who speaks with a perfect Beijing accent, is one of the most famous foreigners on TV and in movies. Kos-Read, who's better known by his Chinese name, Cao Cao, has appeared in about 100 Chinese films and TV series in the past decade.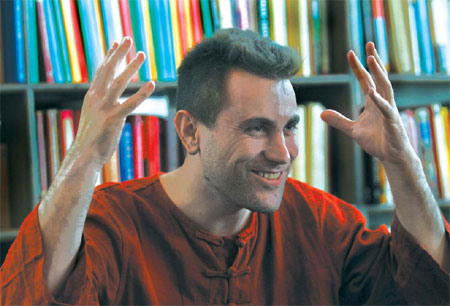 Jonathan Kos-Read says he doesn't feel any cultural conflicts after living in China for 15 years. Zou Hong / China Daily
He just completed his latest role in the movie Twins' Code, in which he plays a financier who perpetrates fraud, experiences regret and atones for his sins after the 2008 financial crisis.
It's Kos-Read's first lead role in a big movie. The film was co-produced by a Chinese and a Hollywood team.
Kos-Read says tackling the lead role is challenging.
"When you are a supporting actor, you help create stories about the lead actors," he says.
"When you are a leading actor, it's all about you, and adjusting to that is very difficult. The main difficulty is, when you act the leading role, you do a lot less, because the audience is thinking about what you are thinking.
"You are not acting as much about how you are thinking. You want the audience to guess more about what you are thinking."
Kos-Read says he has wanted to be an actor since childhood. He had a strong sense of adventure, loved reading novels and discovering "strange new worlds".
"When you live a regular life, it is just life around you. But when you read novels, it is like all of those different worlds opening up around you," he says.
Still, his discovery of China happened "by accident".
He was required to take a foreign language to graduate from New York University, where he majored in acting. He chose Chinese, partly to be different from his peers, and imagined someday visiting the country.
"It seemed so cool to be the white guy who spoke the weird Asian language, who would go off to a strange foreign land and know how stuff there worked," he says.
Kos-Read arrived in China after graduation in 1997.
For the first two years, his life was similar to beipiao - Chinese who seek their fortunes in the capital.
Kos-Read worked in training schools for businesspeople. But the work was so boring that he sometimes fell asleep in his own classes.
He started a small business, worked for trade companies and even tutored foreign children in math.
"A lot of times, I saw foreigners appear in Chinese movies and TV shows," he recalls.
"I thought I was better than them both in acting and speaking Chinese, but I didn't know how to get to be like those people."
One day, he saw an advertisement in an expatriate magazine seeking a foreign actor for a movie. He went for a screen test and got his first role. Invitations for other parts soon followed.
In the beginning, the roles Kos-Read played were mostly four "unrealistic cliches" - the rich foreigner who falls in love with a Chinese girl and pursues her in vain; the person who makes the script seem more international but really has nothing to do with the actual American experience; bad guys in history; and foreign friends of Chinese characters.
"One of the reasons the foreign characters were not written well in the past is because there were not many foreigners in China," Kos-Read says.
"So, foreigners were just like some strange things from another planet that writers had to guess at."
But much has changed, especially in the past half decade, as China interacts more with the rest of the world.
"So, now there are real people with real stories and real goals instead of just tools for the script to use," Kos-Read says.
The actor explains that he always gives 100 percent to every role, even those that are less than ideal.
Even though his Chinese is fluent, he still asks assistants to go over the script scene by scene with him.
"I need to understand what the character wants in life, and then I will be able to know what he wants in the movie, in every scene and then in every sentence," he says.
"I need to know when he says 'hello', why he says 'hello' and the response he wants from you, because there are a billion different ways to say it."
Xue Haowen, an actor who once worked with Kos-Read, says the American is very dedicated.
"He usually recited the lines one month before shooting and succeeded on the first attempt," Xue says.
"If he made a mistake, he would be more worried than the director."
Kos-Read says he doesn't feel any cultural conflicts after living in China for 15 years. He says he has not only adapted to, but also has adopted, Chinese ways of doing business.
"In China there's a lot more consultation," he says.
"It is quite common to put off deadlines for two or three days. Sometimes, I'll also ask others to change the schedule."
Kos-Read believes he's in the right place at the right time.
"It is cool to be in China right now, and it is cool to be in the movie industry, which is growing fast," he says.
"The work with Chinese people, showing China to the world, is fun and interesting and valuable."
The way Kos-Read met his wife, Beijing native Li Zhiyin, is far less romantic than the love stories he portrays onscreen. They met on a blind date arranged by friends in 1998, when Li was still in college.
The couple recently had their second child.
Li has helped the American learn about her language and culture, and even gave up her career to support him.
"If I didn't have my wife, I would fall apart," Kos-Read says.
Their family dynamic is typically Chinese.
"I earn the money and don't even touch it," Kos-Read says.
"It goes straight to my wife."
He has to "apply" when he needs cash.
"He spends most of his free time reading, writing and hanging out with friends and family," Li says.
Feng Wei, who has been Kos-Read's friend for more than a decade, says that while he's an actor onscreen, he's candid in real life.
"He's straightforward," Feng says.
"He is a simple man, and you can tell his emotions by his expressions. When he is with friends, he never sees himself as an outsider. He is always ready to offer help and tell the truth - whether you like it or not."
Kos-Read is writing a murder mystery novel set in the Southern Song Dynasty (1127-1279) about a palace eunuch-turned-detective.
His next film project is a Hollywood production about monsters shot in Hubei province's Shennongjia National Nature Reserve.
Kos-Read hopes to become a filmmaker because he realizes he can rarely lead in a Chinese TV series.
"Then, I can create TV shows or movies that I think are good, put actors I think are good in them, have them be directed by directors I think are good and always have a supporting actor, who is a foreigner," he says.