Small loans assist in fight on poverty
Small loans for the poor have become more accessible in China, as the government is intensifying a national campaign to fight poverty.
By the end of last year, a total of 283.3 billion yuan ($41.2 billion) of small loans had been lent out to 7.4 million poor families nationwide. Last year's loan approval rates went up more than tenfold to 26.7 percent, from 2 percent in 2014, according to the State Council Leading Group Office of Poverty Alleviation and Development.
At the end of 2014, five central government departments, including the poverty alleviation office, the Ministry of Finance and the central bank, issued a guideline on developing small loans that aim to lift more people out of poverty.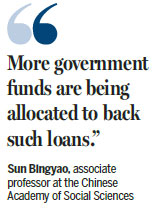 The loans, up to a maximum of 50,000 yuan, can be extended for three years. Lent at the central bank's benchmark interest rate, the loan requires no collateral or guarantor. And for borrowers, a special poverty alleviation fund will cover the interest fee.
For lenders, who are usually local policy banks, the risks are controllable, as the county-level governments will set up an insurance fund to compensate for loans that are not paid back.
In Yanchi county of the Ningxia Hui autonomous region, local banks provided 540 million yuan in such loans to poor families last year alone. The approval rates were as high as 86 percent. A total of 8,181 families used the loans to raise a local sheep breed and plant vegetables. With these loans, each family ended up bringing in an average 12,000 yuan in extra income a year.
Sun Bingyao, an associate professor at the Chinese Academy of Social Sciences, said the current government-backed loan programs have given banks more incentives to offer loans to the poor.
"Small loans below 50,000 yuan for people in poverty, by commercial banks' standards, can be both risky and costly," Sun said.
"But thanks to the national campaign to fight poverty, more government funds are being allocated to back such loans. For villagers, the money is almost free. For banks, they do not need to worry too much," Sun added.
chenmengwei@chinadaily.com.cn