Xi outlines vision of deepening reform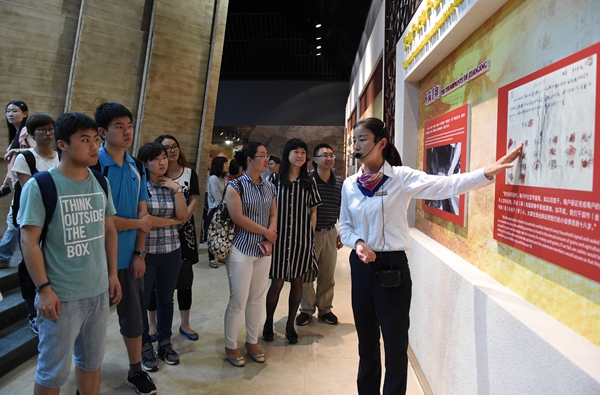 Party members from Nanjing, Jiangsu province, visit a museum in Xiaogang village to learn the village's history and tradition of reform. Located in East China's Anhui province, the village has often been referred to as the birthplace of rural reform. Guo Chen / Xinhua
The national leadership continues to implement changes designed to foster a fitter, leaner economy. Xinhua reports.
Yang Yuxiang had planned to leave his job as a rural school teacher in Hunan province, Central China, for a position in a city school, but changed his mind after the central government began to implement measures to improve rural education.
"I don't need to look for a new job now because the school will be renovated, and rural teachers, like me, now qualify for attractive remuneration packages," he said.
Measures have been rolled out across the country to close the gap between rural and urban education, including better pay for rural teachers and better facilities for rural schools.
Education reform is just one element of the country's extensive reform drive. Last year, 97 key reform tasks were completed, 419 reform plans were drafted and frameworks for reform in major sectors were drawn up.
There is little sign of the reform drive losing steam in the new year. Just days after the start of the Lunar New Year, President Xi Jinping chaired a meeting of the Central Leading Group for Deepening Overall Reform to chart the course for further changes.
At the meeting, Xi said leading Communist Party of China and government officials are central to the national reform drive. They must act to "shoulder the heaviest burden, and chew on the hardest bones", he said.
Xi has taken the lead. More than four years after taking the helm of China, reform has emerged as a hallmark of his administration.
Comprehensively deepening reform is one of the "Four Comprehensives", a strategic blueprint drawn up by Xi that creates pathways to realize the Chinese dream of national rejuvenation.
He also went to great lengths to make his vision of reform a reality. Xi's first trip outside Beijing as the leader of the CPC was to Guangdong province, the forefront of China's decades-long reform and opening-up drive.
"Reforms are always in the present tense, not the past tense," Xi has said.
Last year, he visited Xiaogang village, often referred to as the birthplace of rural reform, in Anhui province, East China, where he called for a solid agricultural sector and improved conditions for farmers.
In July, during an event to mark the 95th anniversary of the founding of the CPC, Xi said reform and opening-up will be crucial to deciding the fate of modern China.
Measures drafted by the Central Leading Group for Deepening Overall Reform have been designed to address issues such as urbanization, poverty alleviation, innovation and the market's role in resource allocation.
"These reform measures are so wide-reaching that they touch the lives of all Chinese," said Xu Guangjian, vice-dean of the school of public administration and policy at Renmin University of China.
"In this sense, China's current reform drive is more than just a venture of the ruling party. It represents the common aspirations of the entire people," he said.
Sense of gain
The general objectives of reform are improving socialism with Chinese characteristics and modernizing the State governance system, according to a communique issued after the third plenary session of the 18th CPC Central Committee in 2013.
This vision includes promoting social equity and justice, and improving the well-being of the people.
In his New Year address, Xi said his top priority was helping the poor.
Xi, who is also general secretary of the CPC Central Committee and chairman of the Central Military Commission, has presided over 32 meetings of the Central Leading Group for Deepening Overall Reform since its inception.
Poverty alleviation, healthcare, employment and education were among the key issues discussed at the meetings, which aimed to improve the lives of the people.
"The ongoing reform drive is not just reform for reform's sake," said Xin Ming, a professor at the Party School of the CPC Central Committee.
Xin said the four years after the 18th CPC National Congress in 2012 have marked a new phase in the country's reform as it becomes more systematic, interlinked and coordinated: "The reform now focuses more on increasing people's sense of gain. It is becoming more solution-based and more law-based."
In Xi's own words, reform must be focused on issues of public concern. It must serve to resolve outstanding problems in ordinary people's lives and meet their demands and needs. It should be carried out by the people, and for the people.
Eliminating poverty is the first and key step in improving people's lives.
Last year, tailored measures were designed for, and implemented in, the country's impoverished areas - including a program that allocates profits from local hydropower plants and mining projects to the local people.
Thanks to an array of measures, an additional 10 million people were lifted out of poverty last year, taking the nation one step closer to lifting its remaining 45 million rural poor people out of poverty by 2020.
Along with the poverty-relief program, other endeavors to help improve the lives of the population are taking shape.
More medical resources have been provided to close the gap in health services for children, and family doctors are introducing more people to health management. Rural education is also being improved to help students compete with their urban peers, while the design of care services for seniors is being improved to cater to the needs of the elderly.
Major projects
At the 14th meeting of the Central Leading Group on Finance and Economic Affairs in December, Xi was briefed on progress in a number of major projects, including: promoting clean winter heating in northern areas; implementing a waste sorting program in eastern Zhejiang province; disposal and recycling of livestock residue; improving the quality of services in nursing homes for seniors; regulating the rental market for residential properties; curbing property bubbles; and improving oversight of food safety.
"The fundamental goal of maintaining the pace of growth and promoting economic development is to seek proper solutions to prominent issues of common concern to the people," Xi, who heads the central leading group, said.
Building a moderately prosperous society in an all-around way by addressing people's concerns is in line with the need to push forward supply-side structural reform, Xi said, adding that this would also help to nurture new sources of growth and increase potential.
China embarked on its reform and opening-up drive in the late 1970s, and reform has remained a key theme of the country's development ever since.
But nearly 40 years later, the reform drive is now in a deep-water zone because many of the easier reforms have been accomplished, leaving the difficult tasks.
Efforts have been made to focus more on top-level design of reforms and on "key minorities", a term first used in 2015 that refers to the small group of officials at provincial and ministerial level who have both power and responsibilities.
According to Xi, leading Party and government officials must practice what they preach to ensure that reforms are fully implemented.
The president has highlighted the importance of implementation on a number of occasions.
According to Xi, leading officials should be both the promoters and practitioners of reform. Reform may bring sharp yet brief pain, but without it the pain will last much longer.
So far, a wide range of areas has been improved, with notable advances in the reform of the judiciary, the fields of fiscal management and taxation, State-owned enterprises and the military.
In the economic sphere, Xi has promised extensive supply-side structural reform.