Survey portrays confidence and concerns of Chinese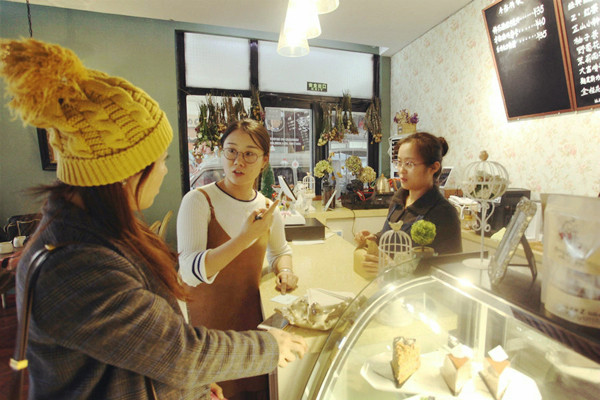 Zhao Lingyi, a post-90 woman, introduces her cakes to a customer in her shop in Weihai in Shandong province, Dec 19, 2016. [Photo/Xinhua]
A survey carried out by China Central Television indicates that those born in the 1990s and those above 60 are more confident about their financial health, reported chinanews.com.
The China's Economic Life Survey, sponsored by CCTV, the National Bureau of Statistics, China Post and National School of Development at Peking University, suggests new trends in income, expenditure, social security, and life quality of Chinese people.
This year's survey shows that 16 percent of post-1990s and 13 percent of those aged above 60 are confident about their financial prospects.
According to previous surveys, the confidence in income in 2015 rebounded to the highest point in recent years.
In terms of investment, Chinese households are relatively risk averse, with 35 percent investing in nothing. The most popular financial products are insurances – nearly two in five people chose to spend on them.
The survey also shows that 46 percent of respondents prefer to spend on tourism, leading in various kinds of consumption choices.
More than half said they "are under much pressure from work, and have no time to exercise". At the same time, 34 percent said they buy heath care products and services.
When it comes to attitudes toward the second-child policy, 24 percent of respondents said they do not plan to have another child in short term due to economic pressure.
The survey collects feedbacks from 100,000 Chinese households in 104 cities across the country by sending them post cards with questionnaires. This year, big data technology was applied in the survey.
The detailed information about the survey will be aired on CCTV next month.