High tech connected classrooms defined as education priority in China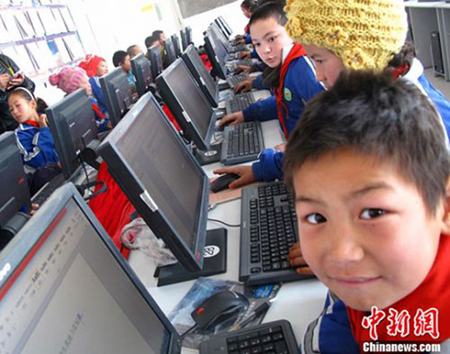 Students' first computer class in a primary school in the Karquga village of Weili county in northwest China's Xinjiang Uygur Autonomous Region. [File photo/Chinanews.com]
Full internet coverage in primary and middle schools where possible, with multimedia classrooms in at least 80 percent of schools, has been held up as a key goal for this year by the Ministry of Education.
The new document on educational informatization, also emphasizes that 70 percent of middle and primary schools in China should have a bandwidth of 10 Meg, especially for schools in rural areas of China where educational resources are in severe shortage.
The document also calls for the building of a national educational resources framework, connected to national and local government and enterprise resources. The goal is to see 70 million users of the platform, ensuring the exchange of educational resources for students from more than 2 million classes nationwide.
Also the document states that greater efforts will be made to set up more teaching resources for teachers.
About 2.7 million teachers are to participate in "class sharing" activities, and 20,000 'excellent classes' to be collected every year to provide better education more generally.