Lawmaker calls for end to issue of left-behind children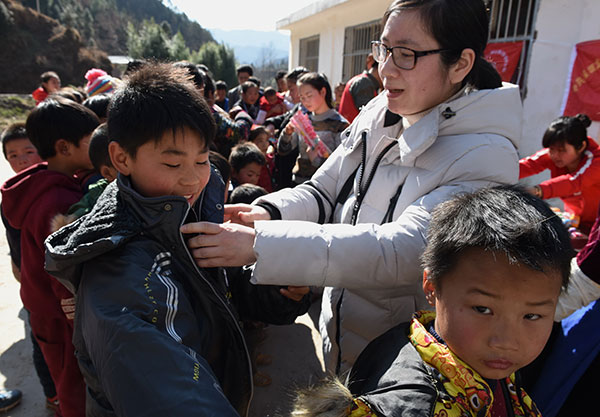 Volunteers give away clothes, books and toys to more than 100 left-behind children in Bijie, Guizhou province, in February last year.[Li Jianqiang/For China Daily]
GUIYANG-When rape flowers begin to blossom in the rugged fields of Southwest China, people know it is time to depart. Young mothers and fathers leave home to find jobs, with toddlers and teenagers being left in the hands of elderly grandparents.
For people in Dazhai village in Guizhou province's Bijie city, spring has always brought a sense of hope along with a sense of the inescapable sorrow of separation. The village is home to more than 2,200 people, mostly of Miao ethnicity, and the most common way for villagers to escape poverty is to find jobs elsewhere.
Cai Qun, a 36-year-old mother, repeatedly experienced such departures before becoming a creative embroidery artist and a successful entrepreneur.
She is also among the more than 2,800 deputies of the 12th National People's Congress who are attending the ongoing two sessions-the annual gathering of the nation's top legislature and its top political advisory body-in Beijing. Cai said she wants to bring more congressional and public attention to the fate of China's "left-behind children".
"A child needs a mother. Stop mothers from leaving and bring them back," Cai said.
Cai's poverty-stricken hometown of Bijie has witnessed the brutal damage that poverty and the absence of parental care can do. In 2012, five children in Bijie died from carbon monoxide poisoning while burning charcoal for warmth in a roadside dumpster. In 2015, four left-behind siblings aged 5 to 13 died after drinking pesticide at home.
Nationwide, there are more than 60 million left-behind children in rural areas, with Bijie accounting for 260,000 of those. Left-behind children are often victims of tragedies such as murder, trafficking and suicide.
"I hope there will be more incentives, such as loans for small business who can offer jobs to mothers in their hometowns," Cai said.
Cai's mother, who is 87 years old, gave birth to 13 children, of which six survived, with Cai being the youngest. Cai's childhood mostly involved fighting hunger, which is the reason she left Bijie.
"We did not have a paddy field, so it was difficult to find enough food. My mother always had to ask for food from neighbors," she said.
At the age of 12, Cai followed her sisters to the provincial capital of Guiyang to make a living collecting garbage. Like most girls in her village, Cai married early. She gave birth to her daughter, Yang Linfeng, at the age of 16.
"My oldest sister took care of Yang Linfeng when I was away. For my daughter, my sister was more of a mother than me. I was like a relative she saw only once a year," Cai said.
While working in the industrial hubs of Yiwu and Shenzhen, Cai tried to make up for her absence by making hand-embroidered dresses for her daughter.
Almost every woman in her village knows how to embroider, but Cai is probably the most skilled. In 2007, Cai joined a provincial folk art competition and won a prize for her wax painting.
"The competition was an eye-opener. My husband and I decided to open a workshop at home," she said.
Cai expanded her house into a factory and founded a company under her own name. Cai's embroidery products are popular at a karst cave tourist destination about 2 kilometers from her home. Last year, the shop's turnover was 8 million yuan ($1.15 million).
She employs about 300 women, and half of them used to be migrant workers. "The older women are more skilled, but I'm persuading more young women to come to work for me," Cai said. "When there are many orders, women come to work at my shop, but they can also work from home, if necessary."
Yang Zhongmei, a 29-year-old mother, joined the workshop in 2015. Previously, she worked at an electronics factory in Shenzhen. She earns about 3,000 yuan each month, a few hundred yuan less than what she earned in Shenzhen.
"My son is in third grade and my daughter is in kindergarten. My son, in particular, is happy to see me back," Yang Zhongmei said.
Cai said: "When I was young, every evening my mother would sit down to rest, light a candle, start to sing and spend the evening sewing, which is something I will never forget. I hope embroidery can change the lives of more Miao women, like it did for me."