Guizhou steps up poverty relief efforts
Guizhou province, which is home to more impoverished residents than any other province, is stepping up efforts to lift more people out of poverty, while ensuring no damage is done to the local environment.
"Though we have made progress in the battle against poverty, there is still a long way to go and the task is becoming increasingly difficult," said Chen Min'er, the province's Party chief and a deputy to the 12th National People's Congress, the country's top legislature.
Last year, the southwestern province lifted 1.2 million people out of poverty. As it ramps up resources to cultivate people's ability to support themselves, the mountainous province aims to help another 1 million rural residents who live below the poverty line of 2,300 yuan ($335) in annual income.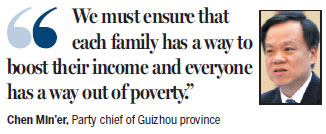 "We must ensure that each family has a way to boost their income and everyone has a way out of poverty," Chen told reporters after a panel discussion during the ongoing two sessions - the annual gathering of the nation's top legislature and its top political advisory body - in Beijing.
Guizhou's move is part of China's broad efforts to help 70 million people out of poverty by 2020.
Last year, Guizhou resettled 458,000 poor people in rural areas, moving them to places with better infrastructure and ecology. It plans to transfer 750,000 more people this year so that they can have access to better living standards and economic opportunities.
Amid concerns that industrial development may be accompanied by environmental degradation, Guizhou Governor Sun Zhigang said more efforts will be made to ensure that no damage is done to the quality of the province's air, water and virgin forests.
One example is how Tongren city has prospered by leveraging and protecting local natural resources. With a huge reserve of natural drinking water, the city has attracted beverage companies such as Nongfu Spring Co to set up factories there, which have employed a significant number of local residents.
Chen Changxu, Party chief of Tongren, said the city's total output value of bottled water and other water-related industries reached 8.97 billion yuan in 2015.
"We will take more steps to protect our clean water and shore up growth," Chen said.
As the government rolls out more policies to support rural development, Hu Rongzhong, another national legislator, said: "Villages are in desperate need of technical experts. I suggest sending more officials to rural areas as part of the big push to upgrade agricultural industries."
According to local officials, Guizhou will step up efforts to boost rural industries this year in the hope of kindling a desire among the poor to pursue better lives and to reduce their dependence on government financial assistance.